Shared reading is a valuable part of the balanced literacy approach. You may be wondering what it is or how it's different than a read aloud. Because it takes up such a small amount of time, it often is left out. But I am here to tell you that the 15 minutes spent on shared reading is SO CRUCIAL, especially for our kindergarten and first grade learners. It's simple to implement and it would quickly become a favorite part of our day in the classroom.
If you are like me, I didn't learn a whole lot about this in college and or practice it during my student teaching time. But it's easy to implement and powerful! I want to break this down for you.
What is shared reading?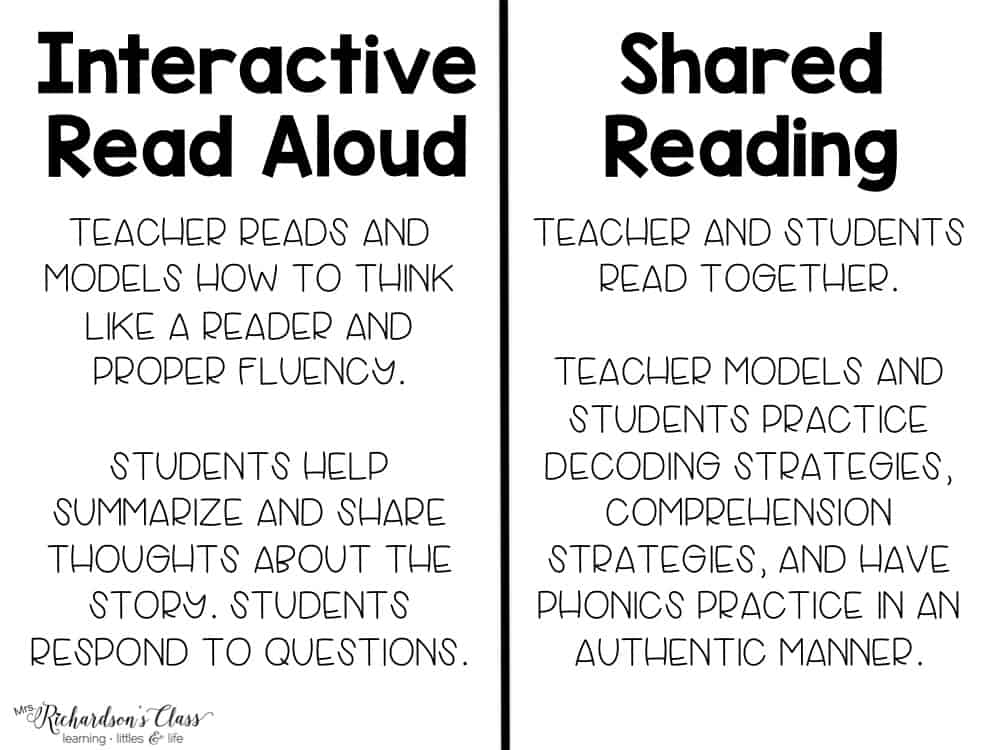 Shared reading is a part of the balanced reading model (read aloud, shared reading, guided reading, and independent reading). This is a 15ish minute block of time within that model that should be practiced daily. Simply stated it's the "We do." part of the gradual release model. This element is crucial. It's time for the teacher and students to practice together.
My friend, Dawn, stated it so simply.
"Interactive read aloud addresses teacher modeling and student practice on whatever was just modeled. Shared reading has modeling alongside practice."
Favorite Shared Reading Tools
Here are my 8 favorites tools for implementing shared reading in my classroom.
1″ Highlight Tape-We use highlight tape to identify sight words and phonics patterns.
Sentence Strips-I use sentence strips to write the text on for that week. Sometimes I throw in a splash of color and other times I use simple white sentence strips.
Pointers-We use pointers to track the text as we are reading it. At the beginning of the year this is something that I model constantly. As the year goes on, students take ownership of this more often.
Pocket Chart– When we used sentence strips, then a pocket chart was needed to hold the strips. Our favorite pocket chart had a velcro pocket at the bottom and it would hold the phonics sorts that went with that poem and our pointer.
Chart Paper-Most of the time I write our poem on chart paper. I like that
Markers-I know many people don't prefer them, but you just can't beat Crayola washable markers. They are my favorite for writing on chart paper and sentence strips. I used them to write our poems.
Dot Stickers-We use dot stickers to place under each word in the poem. At the beginning of the year this helped us to track the text correctly. It guided our 1-to-1 correspondence. Also, much like highlight tape, we would sometimes use dot stickers to identify sight words or phonics patterns in the poem as the year went on and we didn't need a guide to help track the text.
Poems– Over the years I used many resources to gather poems that fit my students' needs. I always ended up writing my own here and there to go along with concepts that we were teaching. I now have this set of poems that have a science theme and have integrated phonics for each weekly poem.
How do I do shared reading?
You will use the same poem or big book for the whole week, but have a different task to complete with the poem each day. The teacher also sets a purpose prior to reading.
For example, "Today we will look for…" or "Today I will show you how good readers…". I have provided a day by day teaching guide for you to follow for easy implementation in this shared reading blog post.
It's the end of the week. Now what?
So you have made it through the week with your shared reading lessons–YAY! But now what do you do with your poem and phonics sorts? My favorite thing to do with the poem was to put it in a literacy station.
What we have practiced together becomes something for the students to practice with each other. They love this because they get to "play teacher".
pin it
If you haven't tried shared reading yet, then don't wait any longer! Grab your favorite poem or big book and you'll be set! If you DO do shared reading, is there anything you do differently? I would love to hear about your shared reading time!