Beginning literacy stations can seem like an overwhelming task.  I'll never forget when someone gave me my first professional development book about them. I was a new teacher, eager to try new things and do whatever I needed to make it work. After all, how in the world would I pull guided reading groups if I didn't have my other little learners engaged in activities?
Over the years I tried many things. I changed the stations out every week or so with new games. I tried keeping the same stations for a month at a time. I tried Daily 5. They all had their ups and downs.  In the end, I created a system that worked best for me and best in our classroom.  Let's talk about getting started with literacy stations and what they looked liked for me.
I began by thinking about what I wanted and didn't want.
I didn't want to change them every week.
I didn't want to spend time teaching a game each week JUST for stations.
I didn't want to create gobs of more work for myself.
I wanted activities that would keep them busy for about 20 minutes.
I wanted there to be a variety of activities so that they wouldn't always feel like they were at the same places.
I wanted them to have some choice, but not all. (I'm just a teacher and like to have a bit of control. You get it, right?)
I wanted there to be a rotation.
I settled on these 8 stations.
Independent Reading Time
Pocket Chart
Big Book
Word Work
iPad/iTouch
Computer
Writing
Listening
When do I begin?
I began the first week of school. Yes, the first week. With kindergarten, it was around day 3. With my first graders it was day 1 or 2.
How do I introduce them?
We would always start with independent reading.  We practice together. I model what they should look like and sound like while they observe.  Then we all practice together.  We work to build up our time at each station, but I am never crazy about it being absolutely quiet in my classroom.  Each week I open a new station and beginning week 5 I open two stations a week.
How do I organize them?
My little learners would read a rotation chart to find out where they would go each time.  I have done this two ways. I have used a pocket chart and written their names on cards to show them where they should go and I have used my interactive whiteboard and created a rotation chart. With the pocket chart I just rotated the name cards down every day.  With the interactive white board file, I just moved their names every day. With both of these, I loved how simple it was to change the partners if or when I needed to.
For the stations that needed tubs to house items, I found that dish tubs or these tubs I found on Amazon (affiliate links are used) are the perfect size! The tub gets a label that matches the rotation chart.
Some of the stations just needed an area labeled so I would label the area with a picture that coordinated with the rotation chart.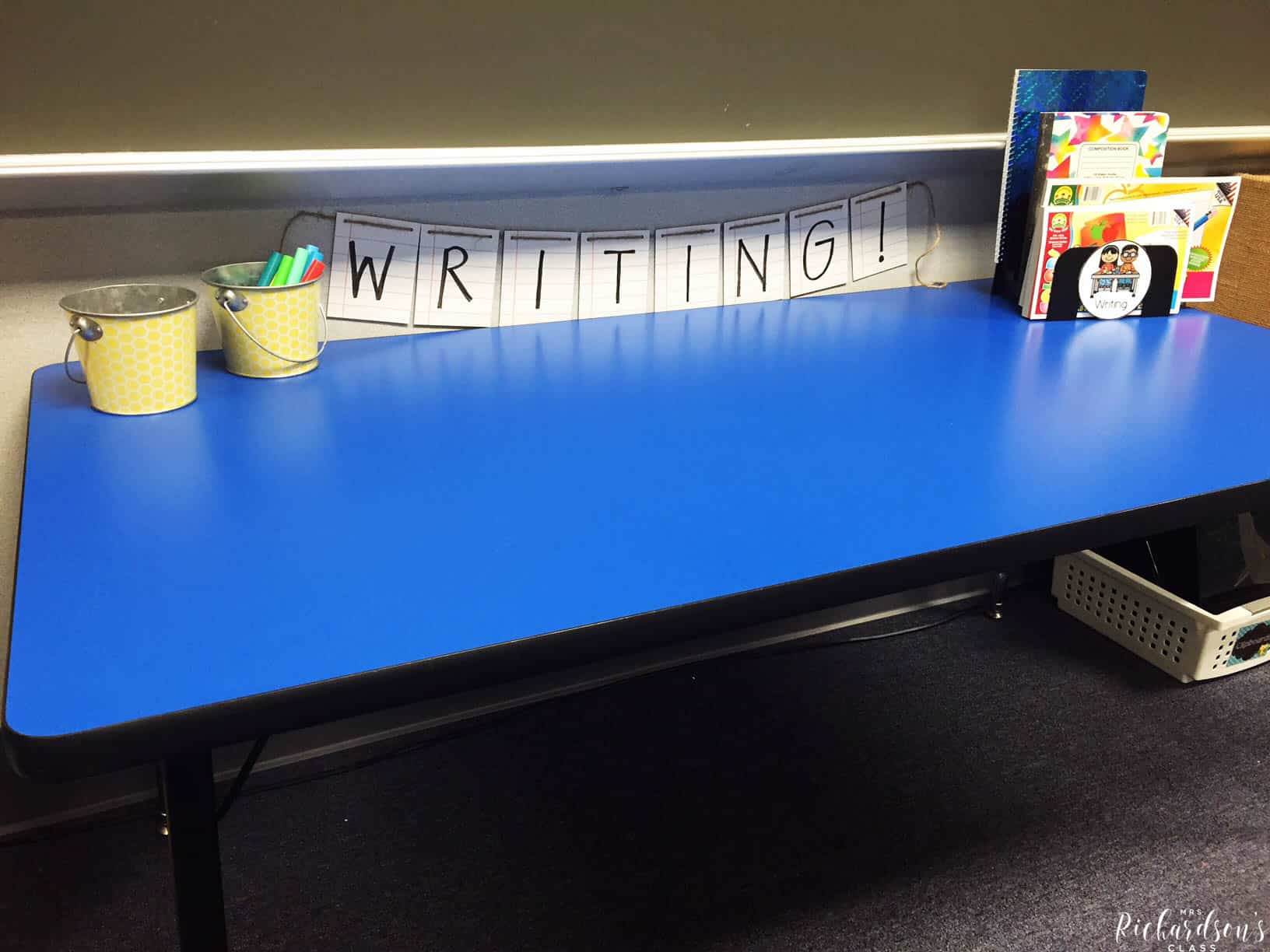 I like to put all of our pillows or reading rugs in one area or laundry basket.
What do they look like?
Each station looked different and I would introduce a little differently based on the expectations that worked best for our classroom.  I wrote a guide to tell exactly how I set up each station, the supplies I used, the expectations I set, and much more! I think back to my first year of teaching and implementing this element of balanced literacy and this would've been SO helpful!
Want to hear me chat a little bit about launching an independent reading station? Check out this Facebook LIVE video!


How do you begin literacy stations? Do you have a favorite system that you have used for years and is flawless by now? Please share! We can all learn from each other!
pin it