Are you needing some fresh, fun ideas for science in February? Let me share some ideas that are perfect for first grade science this month!
This unit comes with a detailed curriculum map for the month so you'll know exactly where you're going. It also has a weekly guide to help you with lesson plans. The topics covered are:
Rocks and Soil

(The water teaching elements will be in the March science bundle.)
One teacher who is already using this in her classroom said,
"Kids loved having more science in the classroom, and I loved how much time this saved!"
This is exactly why I created it! I want it to be super easy for you to have meaningful science time that's simple to plan and implement. Let me show you what's included and how to use it!
Teaching Resources
As I mentioned, there is a very detailed weekly guide that has your objectives, activities, and materials needed clearly laid out for you. Prepping for science each day will be a breeze!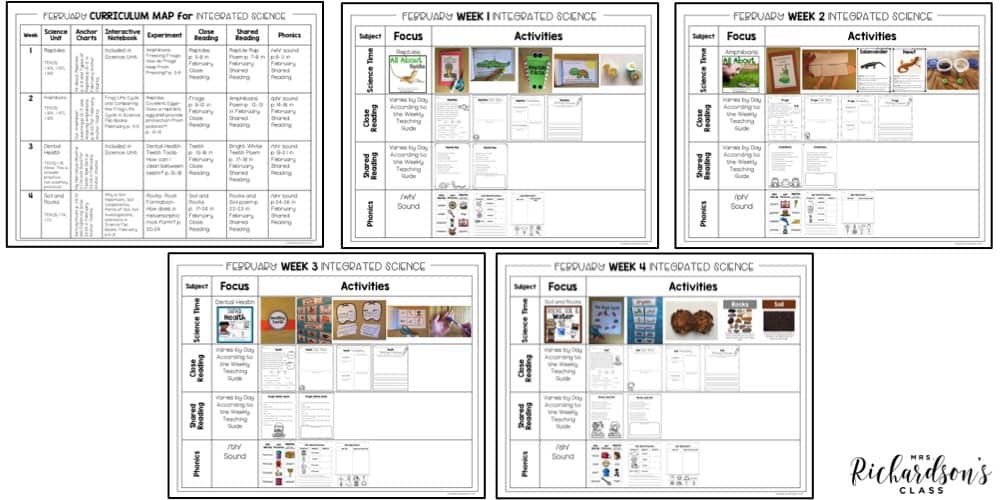 Each weekly topic has ready-to-print teaching posters that will help you explain new topics and vocabulary. You can always display these with a projector, too. The visuals will help reach your ELLs in the classroom.
Science Elements
First Grade Science for February has plenty of fact pages for all topics you can teach your students from so they will thoroughly master each concept. Besides the vocabulary and teaching posters, I also included flip books and pocket books for you and your students to make.
This will give them the chance to practice what they have learned and you to informally assess them as they learn. These also make great interactive notebook pieces.
Check out my favorite tips for interactive notebooks with young learners HERE. Throughout the month, there will be several opportunities for you to lead your scientists through observations and investigations. Hands-on learning is always my favorite!
Anchor Charts
Each topic has anchor charts for you to make with your students to help reinforce learning. These graphic organizers will help introduce new vocabulary, label things, discuss life cycles, and dive deeper into each concept. Hang them up for your students to refer back to and connect their learning to other topics.
Integrating Science
Friends, one way to really drive home learning is to integrate across subject areas. Shared reading is one way to do this! Each topic has a coordinating poem/song for the week that you can use to reinforce science, cover phonics topics, and practice different reading strategies or skills.
Another great way to integrate science is through close reading passages.  Students will love reading about science while learning new vocabulary, practicing comprehension, and completing writing extensions. All four passages come with lesson planning guides for the whole week, too! You can get the Close Reading Passages: Winter Edition in my store. If you purhcase the First Grade Science Year-Long Bundle, you get all of the close reading passages as free bonuses!
Finally, I included a few writing crafts that my students always loved doing!  They can serve as both writing conventions assessments and science content assessments. Purposeful crafting is the best!
I hope you can tell that First Grade Science for February is jam-packed with meaningful content that your students will love. I also wanted you to feel confident and organized while teaching. For this reason, I made this unit as teacher and student-friendly as possible! While this was made with first graders in mind, it can be used for kindergarteners, second graders, and homeschoolers, too! Head to my store to grab yours!
If you want to save even more money, I bundled science for the whole year HERE.
pin it