Just the thought of getting started with guided reading small groups can be overwhelming. I know that was the case for me when I started teaching. You have to create a space for it You have to gather reading tools. Then, you have to create groups and write effective lessons. It's a lot!
One area that sometimes becomes more complicated than it needs to be is guided reading tools and literacy manipulatives. I'm here to tell you guided reading tools can be simple. Over the years, I came to find the best tools for teaching guided reading and reading small groups. These guided reading tools were things I used almost daily from the beginning of the year as I started meeting with my groups. I'm excited to share them with you to help you get started!
Amazon affiliate links are used below. Don't worry, they don't cost you penny!
I used these unique-sized sticky notes almost every day with my guided reading groups. Not only did I use them to write kids' names on and organize them into groups in my guided reading binder, but I also would let students use them in books.
For example, at the beginning of the group, I would set a purpose for reading such as making a connection. As the students read their book and made a connection, they would place their sticky note there. We would then talk about their connections after.
I would use notecards to write new sight words on as I introduced a book. So if the book had "can" and "the" in the book, I would write them on the notecards. Then we would practice reading them. I would then add them to the stack of sight word cards that we had already learned. At the beginning of each guided reading group time, we would play a quick sight word game with the stack as we all read the words.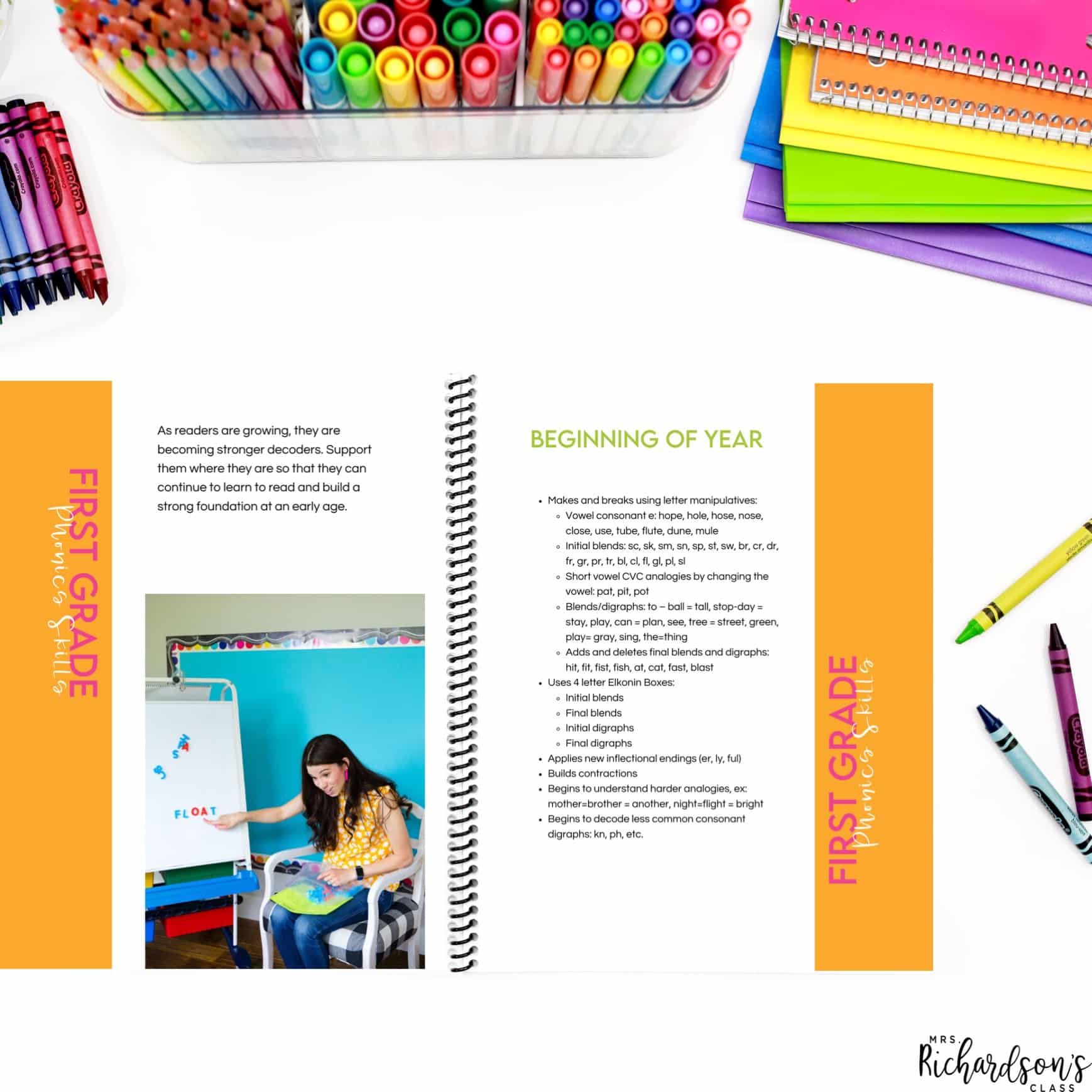 One must-have tool for your lesson planning for your reading small groups is the Reading Small Groups Guide. It walks you through behaviors to support, phonics skills to practice, and comprehension skills to develop for the whole year for each grade level. You'll want to keep this handy resource at your fingertips so you can move readers forward all year long. You can find it on my blog HERE!
These baskets are the perfect size for me to prepare each group's materials. They fit nicely on two shelves that sat behind my guided reading table. They fit the small books that the students would read, any sight words cards that I had prepped beforehand, and baggies of letter tiles or word sorts that we would do.
Teacher Caddy
Now normally, this teacher caddy is not something that I would ever see and think "I need that!", but let me tell you–I love it! I received it at a training and have used it every year since! I would store the sight word notecard stack, highlight tape, oops! tape, reading glasses, and magnetic dry erase boards ALL in one place. If I needed to take my group to the floor instead of my table, I just grabbed the caddy and their group basket and was set! I love flexible guided reading tools!
After I introduced the high-frequency words on the notecards, we would go on sight word hunts in our books. Students would use the highlight tape to find the new sight words. The best part about this tape is that it's reusable! You can make the pieces into tabs and stick them on a laminated notecard. Each student would have tabs ready to go!
Letter Tiles
Letter tiles are a must! We used them for word work and to build words that followed our phonics focus for the week or the phonics focus that was easily identified in the book we were using. These literacy manipulatives are one of my favorites and most-used.
On a whim, I purchased fake glasses from the Target dollar spot a few years ago. I told my students that they were our "reading glasses". They helped them have "readers' eyes". Boy, were they fun! The cheapest little guided reading tool I ever purchased, my friends!
At a wonderful training, I received this set of six magnetic dry erase boards. I don't even think I knew there was such a thing because I had never been to Lakeshore. I was just used to seeing normal dry erase boards. Hands down, this a must-have! Both my students and I used magnetic letters on them often! They also fit so perfectly in my teacher caddy. Word work, sentence writing, illustrating pictures as our writing–a fantastic tool for my groups!
A sweet teacher friend told me about "oops tape". It's just white post it tape that is thick and is not see-through. It does not ruin book pages. It's perfect for when a book has a strange word that I would like to change, for modeling correct sentence writing, and for hiding words to reveal as we are working on decoding strategies in their little books. A roll like this lasts me at least all year, too!
This FREE guide for kindergarten, first, and second grade teachers helps you know exactly what students need to know and practice at any stage of reading. It walks you through behaviors to support, phonics skills to practice, and comprehension skills to develop for the whole year for each grade level.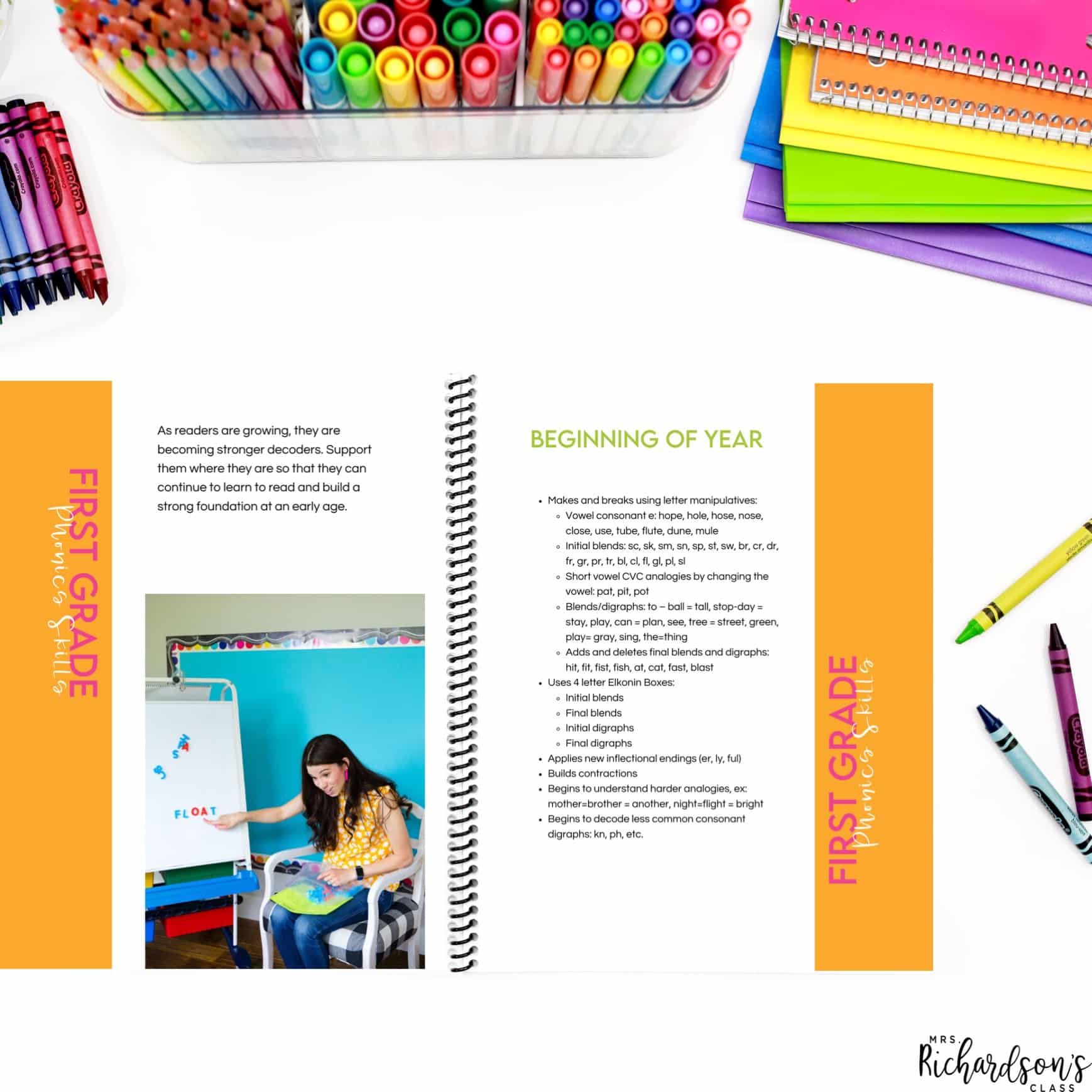 Download it today and keep it at your reading groups table for convenience. You'll want to keep this handy resource at your fingertips so you can move readers forward all year long.
Remember, you don't have to have every possible tool to get started with your reading small groups. You can start with just a few basics and still have engaging, effective small group reading lessons.
Once you're all set with guided reading tools, it's time to start putting together lessons. If you want some help with reading small group lessons, I can do that! I have decodable guided reading kits that have everything you need for lessons. (You can find leveled kits HERE!)
Each set has decodable books, detailed lesson plans, phonics practice materials, teaching posters, and more. You can get each set individually or grab the bundle to save.
Grab your set and get started today. You'll have everything you need to help students master important phonics skills and boost your readers!