One of my favorite memories is when my first grade teacher introduced me to poetry. She read one of Shel Silverstein's books aloud to our class, and it captivated me. I loved that poems could be funny, serious, and written in so many different formats. I went to the library after school and checked out a ton of books with poems in them. This became one of my favorite poetry mentor texts.
Teaching poetry can be a little harder than just reading it aloud. That's why we find great poetry mentor texts and authors that we can emulate. We want to find authors and texts that are engaging, but ones that students can also emulate. I have some great mentor texts that would be great to use in your classroom if you are doing an upcoming unit on poetry in reading or writing.
**Amazonn Affiliate links are used below at no cost to you. This is a great way to support the blog.
5 Must-Try Poetry Mentor Texts
This book is a book of acrostic nature poems. It's a great resource to use to teach your kids what an acrostic poem is and then let them see a bunch of well-written acrostic poems. You could have your students try one with the word 'spring' after! Acrostic poems are perfect for even kindergarten students to try.
This classic book of poems is one students will enjoy! The poems in this book are funny and relatable. I used to carry this book with us throughout the day and squeeze in a quick poem when we were waiting in the bathroom line, if we arrived a few minutes early to specials, or anytime I thought we might have a few extra minutes. This book started my love of poetry, and I'm sure your students will be inspired and enjoy it, too!
Daniel is on a quest to find out what poetry is after seeing a sign for "Poetry in the Park". He asks some animals in the park what poetry is. This is a great book to share with students and to teach them that there is no right or wrong when writing poetry!
This book features concrete poems! The author gives a good explanation of what concrete poetry is at the beginning of the book for students. The poems in this book are about a lot of different topics- the sun, baseball, and even fireflies. Students will have fun looking at the variety of poems and the many forms of poems in this book.
This is such a fun book to use to introduce haiku poetry. I love that the whole book is a poem! This is a cute story about a dog named Mooch who is looking for a home. Students will love the illustrations! It is a great resource to use to show and teach students how to write a haiku!
Poetry Lessons Made Easy & a Freebie
To help get you started, I have a Sensory Poem Freebie for you in my blog post that talks all about why poetry for young readers is important and how to get started teaching it.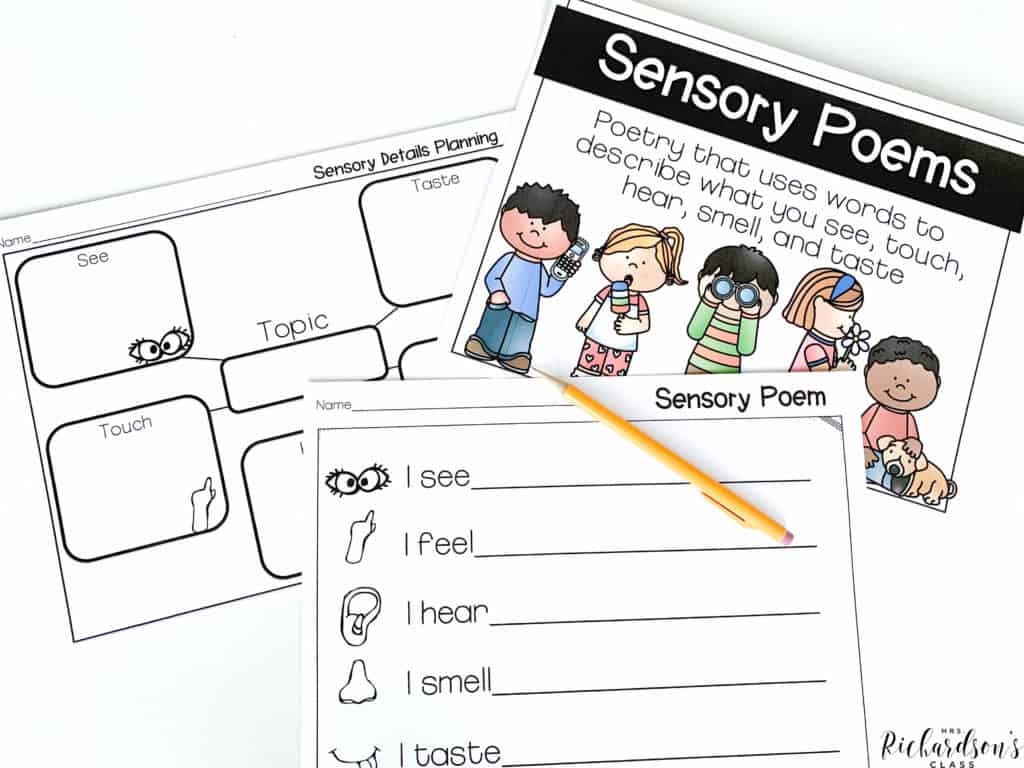 I also have a poetry resource that's perfect for first graders. It is a GREAT place to begin with rhyming and alliteration. It then moves on to sensory, bio, acrostic, and cinquain poetry. This unit is aligned directly with the first grade TEKS. It includes:
poetry teaching posters for each type of poem
brainstorming pages
writing paper for each type of poem
Get yours today and get excited to teach all about poetry to your first graders, especially when you pair it with awesome poetry mentor texts!