When it comes to the science of reading, we've all been hearing about the need to support our students with research-backed instruction. But what about pre-readers? How do we support pre-readers with the science of reading? When you're meeting with your reading small groups, how can we continue to support pre-readers and move them towards becoming readers?
Almost all primary grade teachers will have students who can't read in their classrooms at some point. The good news is that the solution is simple… You meet with them consistently, coach them, and help them become readers.
You might be thinking to yourself, "Well that sounds great, but what do I actually do in my reading small groups to help them?" Great! Let's dive into how to teach reading small groups with pre-readers with the science of reading in mind.
Set your expectations and teach the routine.
With every single reading group, the very first step is to set your expectations and teach students the routine at your table. We want them to know what to generally expect during this time. This could include things like:
Walk quietly to my table.
Sit down.
Get your finger ready with your alphabet chart in front of you. (Whatever the first task is that you want them to complete.)
For my students who are reading this looks different. I expect them to get their book from their folder and come to the table, quietly warm up their brain by reading their book, then place the book under their chair.
Small Group Reading Schedule to Support Pre-Readers
Once you have completed your reading assessments and have identified the students who cannot yet read, you'll want to group them together so you can differentiate reading instruction to support them. Here's a sample schedule to try to support pre-readers by meeting them where they are, filling in the gaps with authentic practice, and equipping them with skills to move forward.
2 Minutes: Work on letter names and the sounds they represent. This could look like pointing to the alphabet chart and chanting it. (You can get a free alphabet chart on my blog HERE!)
6 Minutes: Provide an explicit phonics lesson. This could include naming the letter(s), telling the sound it/they represent, looking at mouth formation, discussing if it's voiced or unvoiced, and writing the letter(s) that represent that sound on a dry-erase board or sentence strip.
1 Minute: Give a book introduction of a book that follows the phonics skill. This should match the focus skill of the phonics lesson and will most likely be a CVC decodable book.
5 Minutes: Students will read their decodable book. You can listen in and monitor students' decoding skills while they read.
6 Minutes: Use the time after reading for word work OR a phonological awareness activity. This could include rhyming activities, syllable work, or an activity based on the phonics skill focus of your lesson.
If students don't know any letters or sounds, you can start by introducing letters and their sounds one at a time as explicitly and quickly as possible.
The Next Steps To Support Pre-Readers
Once students learn how to decode some short vowel words, guess what…they are readers! Now you can lessen the phonics lesson time and squeeze in some dictation where they write words with the phonics skill they have learned and practiced. I always have so many things to squeeze in!
If you still feel a little unsure of how to structure a lesson with a decodable book in your reading small groups, you might find the Short Vowel Decodable Readers resource helpful! Not only does it have decodable books, it has scripted lesson plans that will walk you through the entire lesson.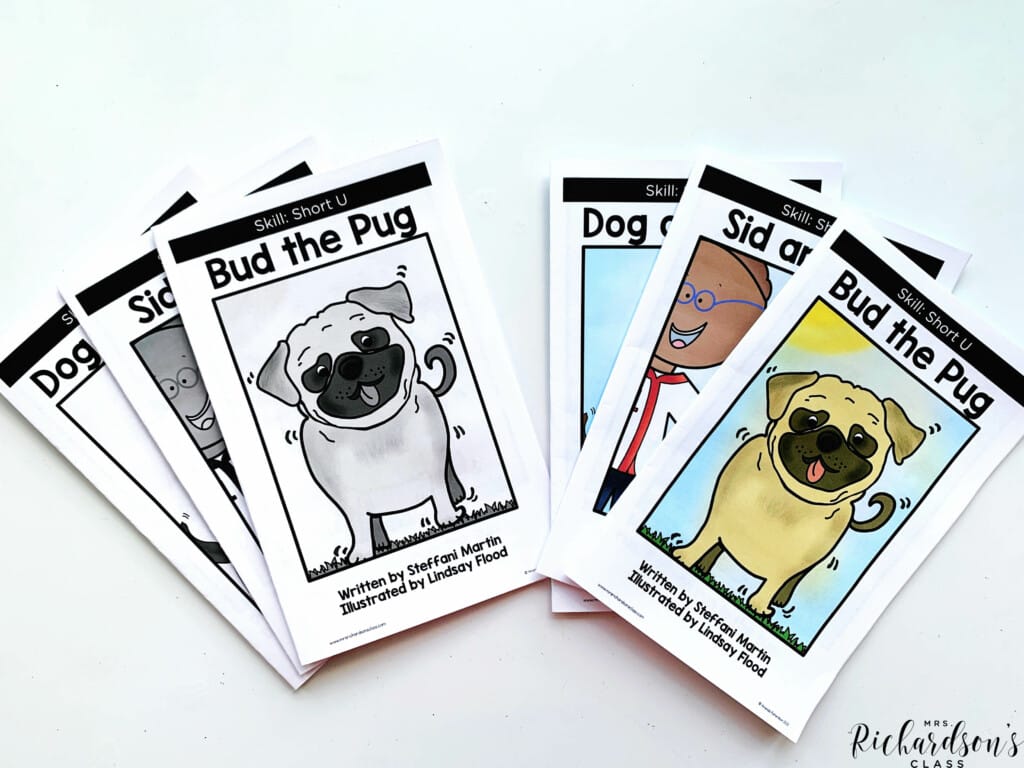 This resource also has word work and phonics activities, teaching posters, parent communication notes, and more! Everything you'll need for reading small group lessons is all in one easy-to-manage resource.
Once readers have mastered decoding short vowel words, you can move on to Blends, Digraphs, and Long Vowel CVCe words. I have bundled these four resources together to save you the most. Grab it today and see how strong your readers can become!