I wanted to pop in and share some pumpkin ideas and how I would integrate pumpkins into our curriculum.  Any time I had the chance to do something fun and relevant like this I would.  The sweet little ones always enjoyed it and of course I did, too! 
This time of year always seemed to fall when our scope and sequence called for teaching non-fiction text features.  We would make our anchor chart and then dig through books and use sticky notes to mark pages that had text features we were searching for. 
We also talked a lot of making connections. We read several of our favorite pumpkin books and then worked on making text-to-text and text-to-self connections.
With my kinder babies, we did A LOT of text-to-self work before we extended it to text-to-text or text-to-world.  They were always able to find a "Me too!" moment!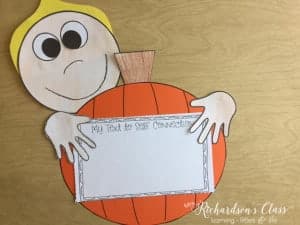 I love, love, love shared reading! It's one of my favorite parts of the day.  It so easy to squeeze in extra practice on little skills and the kids always have a blast singing or reading the poem we have for the week. Here we did sight word work and used a yellow crayon to circle all of the sight words in the poem.  These poems then go into our Song and Poem Books (folders with brads) and the little ones read them over and over during read to self time. They just love them!
Click HERE to see this Pumpkin Fun unit that integrates literacy!
Then, of course, there is science that we can so easily fit pumpkins into!
You can find these activities HERE in my All About Pumpkin unit that integrates science!
My latest obsession is creating these little flip up books.
They are so fun and they include so many different subject areas–writing, science, and math! You can grab the pumpkin one FREE!
Do you integrate pumpkins into your curriculum? If so, how? What are your favorite pumpkin activities? I'd love to hear them!! It's always fun to hear and see new ideas!
pin it