When teachers ask me about how to help students move forward in guided reading instruction, I ask about what they are doing to also help improve reading fluency. These two things go hand in hand: fluency is just one of the five pillars of reading instruction.
But, what if you don't have time to do authentic fluency practice at the guided reading table? How do you practice this with so many different guided reading groups? You can use literacy stations and whole group activities to improve reading fluency in fun, engaging ways.
I have six different activities that students can do in literacy stations while you meet with guided reading groups so that everyone can work on improving fluency. (If you need help setting up stations, you can start here for some tips!)
But first … Why Students Need to Practice to Improve Reading Fluency
First, let's start with what reading with fluency actually means. Fluency has three basic elements:
automaticity
accuracy
prosody (or expression and tone inflection)
These are big words to basically say that fluent readers sound like they are talking, don't have long pauses, and can change the expression in their voices. Fluent readers quickly recognize words and recall and apply decoding strategies.
When students work to improve reading fluency, they also improve reading comprehension. These two things work together so that students can successfully read and understand a text. Improving fluency leads to better comprehension.
Listening Station
One of my favorite literacy stations that can help improve reading fluency is the listening station. When students listen to a book on CD or tape, they get to hear fluent reading and expression in an authentic way. My students loved when they got to go to this station!
Students would go to the CD player and listen to the book two times. Then, they would complete a recording page about their book. You can see exactly how I set up this station on my blog HERE. You can also use these FREE listening data sheets for your little learners!
Buddy Reading
Another literacy station to help improve reading fluency is buddy reading. There are many different ways you can implement this station, but here are the basics:
Two students read the same fiction or nonfiction book together (or two copies of the same book) two times
The buddies can each read the whole book together or take turns.
Then, they stop and discuss the book throughout or at the end.
This activity allows students to practice reading out loud with a friend in a fun way that also improves their fluency and reading comprehension. You can have students write down something about what they read such as three new facts (nonfiction), their favorite part, or a summary.
Recording Reading and Listening Back
In an iPad or computer station, have students record themselves reading a book. It can be a book from guided reading, a shared reading book or poem, or a familiar book. After recording themselves, have them listen and see how fluent their own reading sounds.
Self-reflection can be powerful!
You can grab some FREE fluency self-check rubrics HERE.
Read Alouds
Another great way for students to practice improving reading fluency is through read alouds. Setting a solid example is super helpful for readers! These can be books read aloud while students just listen or interactive read alouds where students participate while listening.
Students can watch and listen to books on websites like YouTube or Storyline Online to hear someone reading with correct pace, fluency, and expression. This can be done in a literacy station or as a whole group.
Shared Reading
Shared reading provides the whole class an opportunity to practice to improve reading fluency as well as work on sight words, phonics, letters/sounds, punctuation marks, and more. Allowing students to practice fluency among other important reading skills is important. We don't want students to only practice fluency in isolation.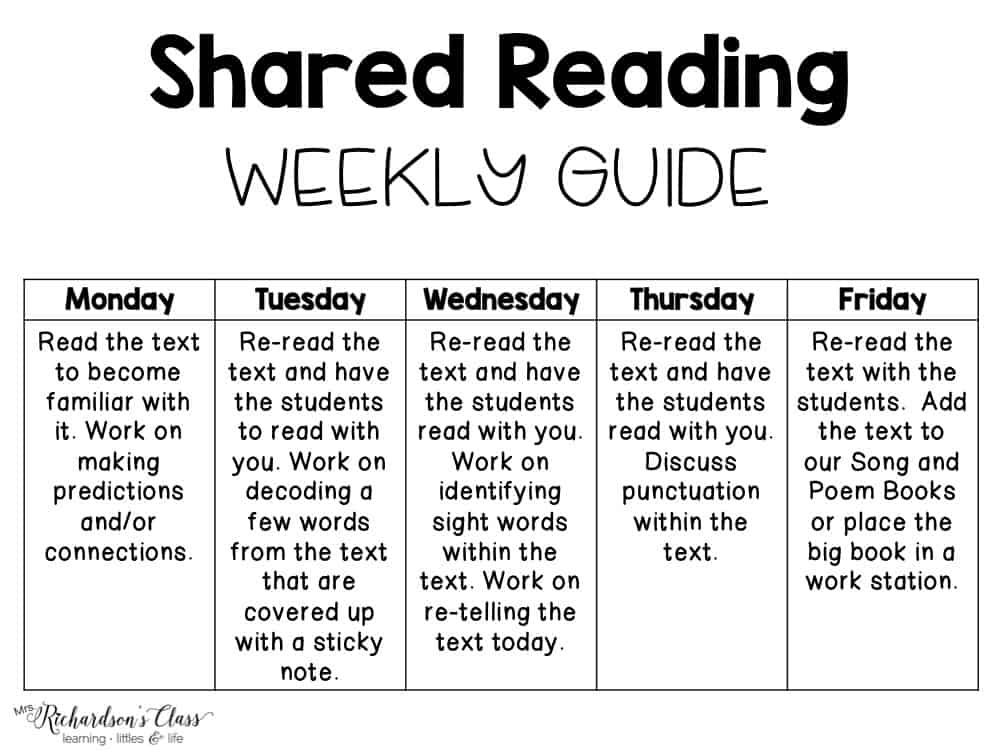 Here's an example of what I might teach in shared reading for the week. After you have finished working with a poem for the week, you can print a copy for each student to put a poetry folder. In literacy stations, students can practice reading the poem, find sight words, and illustrate the poem. This helps build fluency!
Reader's Theater
Reader's theater is always a hit with young readers! If you've never tried it, I'd highly encourage you to. You can do it as a whole group, but it tends to work best with younger students in small groups.
First, choose a script that is fun and exciting that is on your students' reading level. Then, read through the script as a group and decide on lines for each student. Students will then practice their lines with expression, fluency, and character. Finally, they can sit in a circle and "perform" their lines.
This allows students to not only improve reading fluency but also to build confidence in their reading and to see a clear purpose for reading. This is such a fun activity to bring texts to life for students!
Do you want more help?
Friend, fluency is one of the pillars of effective reading instruction. Helping them improve reading fluency opens the door to success for reading. If you want more help teaching your students to succeed in reading through guided reading, I would love to be your personal literacy coach through Rethinking Guided Reading.
Through detailed video lessons, printables, and a community of like-minded teachers, you'll learn how to successfully implement guided reading so you can provide individualized instruction to improve fluency as well as reading strategies, phonics, and comprehension.
I only open the door a few times a year for registration, so hop on my waitlist to be the first to know when you can sign up. You won't want to miss out on this opportunity!