One common hang up in guided reading is what to do with students before they read. How can we get students' brains ready to read and set the tone for the small group time? Teachers often know the lesson needs to be about 20 minutes, but wonder what to do with students besides read the book. The answer is … pre-reading activities. Guided reading pre-reading activities serve several purposes:
Give students a moment to get focused for the lesson
Allow the teacher time to take a running record (more on that in just a minute)
Lets students warm up their brains for learning
I have several go-to guided reading pre-reading activities that are both effective and engaging. They all are easy to implement, too! Once you gather your supplies, you'll be set for guided reading pre-reading activities for the year!
Guided Reading Pre-Reading Activities
While teachers may follow a slightly different format, everyone should have the basics in their guided reading lessons. You can read more about how I structured a guided reading lesson HERE. I walk you through each component of the lesson.
Reread a guided reading book
The first activity I usually do is to have students reread the guided reading book from the previous lesson. Besides warming up their brains for reading, this allows me to take a warm running record. I can gather important information about how a student is doing in reading.
Fluency Strips
For this activity, you'll just need some fluency phrases printed on strips. Then, put them on a binder ring. Students will flip through the phrases and read them quietly to themselves.
Fluency phrases let readers practice reading sight words and other common words with expression and intonation. Reading with fluency leads to stronger reading comprehension.
Sight Words
One of the key guided reading pre-reading activities is sight word practice. We will review previously taught sight words that might appear in the text and introduce new sight words they will find in the text. There are several great ways to practice sight words that are both teacher-friendly and engaging for kids:
Use Magna doodle boards for fast practice
Use iPads for digital word tiles
Read it. Build it. Write it.
Make it. Mix it. Fix it.
Write it. Cut it. Mix it. Fix it.
These pre-reading activities are just what they sound like. I went into great detail on my blog post Sight Words in Guided Reading: How to Boost Every Reader. Check it out for the details of these activities!
Review the Alphabet Chart
Especially for those kindergarten readers, frequently reviewing the alphabet chart can be so helpful! This review reminds them of the sounds letters make so they are prepped and ready to use decoding strategies.
To review, we would just work our way through an alphabet chart chanting it. For example, A /a/ /a/ alligator; B /b/ /b/ bee. While this seems super easy (which it is!), it can be powerful for those early readers. Get a FREE Alphabet Chart HERE.
Word Work Activities
Word work can be a part of guided reading pre-reading activities for all levels. If you have non-readers, you can do some letter-sound practice and work with names. For beginning and more advanced readers, there are a ton of options for word work. The goal of word work is to have students work with words to practice spellings and/or meanings or improve phonemic awareness.
Students could work on segmenting sounds, rhyming words, adding or deleting phonemes, beginning, middle, or ending sounds, or any skill that needs strengthening. Students can also build words with specific digraphs or spelling patterns. Think about one skill that all of the students in that guided reading group can benefit from practicing.
pin it
Needing Some More Help with Guided Reading?
Trust me when I say, "I have been there." Figuring out how to best serve all of your students at the guided reading table is hard. There are so many different needs that it can feel stressful to try to map it all out. I have three ways to help you and meet you where you are.
Leveled Guided Reading Kits
If you want a resource that will lay all of the pre-reading activities out for you, I have a solution. My Guided Reading Kits for Kindergarten (A-D), First Grade (E-J), and Second Grade (K-M) have everything you'll need to be set for guided reading from start to finish.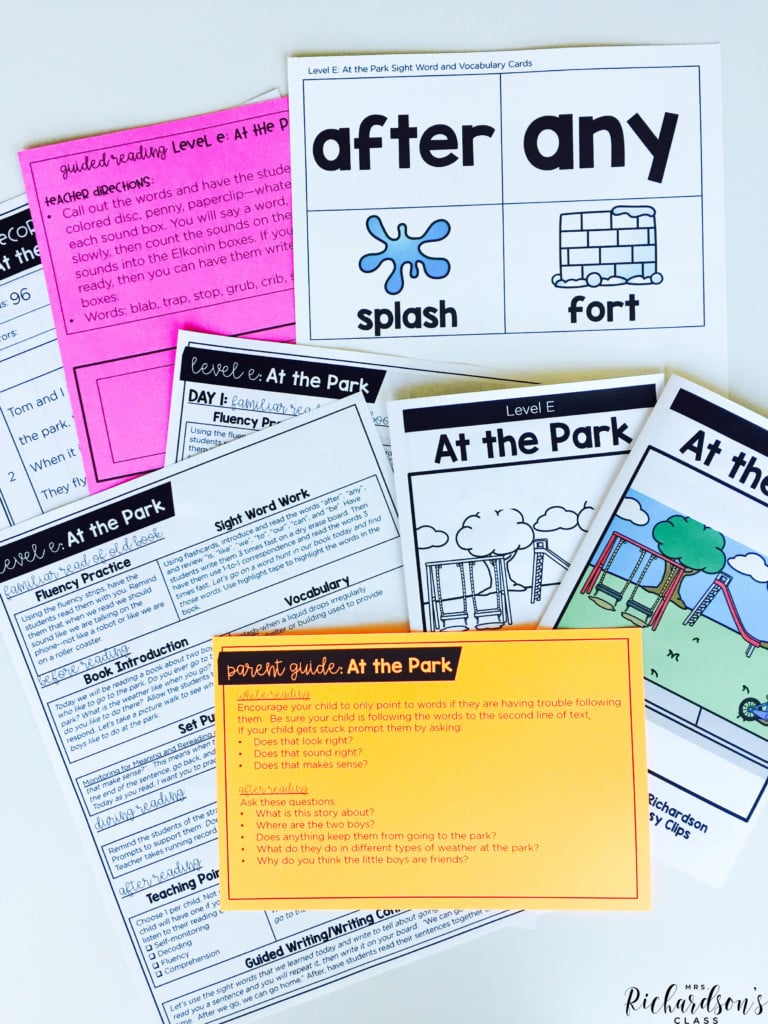 Each leveled kit has:
Guided Reading Level Components
Organizational Tips for Teachers
Guided Reading Strategies Map for Each Level
Guided Reading Lesson Notes and Teacher Notes
Teaching Posters and Charts Needed
Parent Involvement Tips and Notes
Running Record Breakdown
Lesson Plans and Materials
6 leveled texts (color and b&w-3 fiction, 3 non-fiction)
1-day and 2-day teacher scripted lesson plans for each text
3-day lesson plan for levels K, L, and M
Word Work Activities for Each Text
Sight Word and Vocabulary Cards for Each Text
Running Record for Each Text
Parent Involvement Notes for Each Text
Join a Balanced Literacy Facebook Group
My private group has over 3,000 literacy loving teachers like yourself to collaborate with, brainstorm, and bounce ideas around. I always pop in to answer questions and provide feedback when asked. I would love for you to join us there so we can continue this discussion! Click HERE to join!
Join the Guided Reading Unpacked Waitlist
This top-rated course will teach you how to effectively implement guided reading like a professional without the stress and chaos. You'll learn how to plan and deliver engaging lessons, assess students, and grow stronger readers. Join the waitlist so you'll be the first to know when the doors for registration open next.