Mastering phonemic awareness is a key factor in reading readiness for little learners. No matter what reading level a child is on – pre-readers to high readers, they ALL have or need a strong foundation of phonemic awareness.  Sometimes we just don't know where to begin to help our students build the foundation of reading and other times we are simply overwhelmed by the task of "teaching them to read".  Simply put, teaching children to learn to read begins in two places – with developing concepts about print and with building phonemic awareness.
What is Phonemic Awareness?
Phonemic awareness is the ability to hear and manipulate phonemes.  Phonemic awareness does NOT include letter identification or matching letters to their sounds. It focuses ONLY on the phonemes. There are 9 main areas of focus.
Rhyming
Segmenting Syllables
Beginning Sounds
Ending Sounds
Medial Sounds
Blending Onsets and Rimes
Blending Phonemes
Deleting Phonemes
Segmenting Phonemes
Why Is Phonemic Awareness Important?
Simply stated, phonemic awareness is the foundation of teaching a child to read. Their reading readiness is built by doing phonemic awareness activities and working on concepts about print. It's really easy to jump right into practicing letter identification and letter sounds, but doing phonemic awareness activities helps build a strong foundation for our little readers.
What Does It Look Like in My Classroom?
Phonemic awareness activities are great for one-on-one interventions, small groups, and even whole group.  I love using fun songs as we have a few minutes to kill in our schedule.  Another simple thing that was great for whole group instruction was anything they could do on a little work mat. Here is an activity where the focus was medial sounds. I would say a word and they would have to cover up the picture that had a matching medial sound. 
Another mat we used often were elkonin boxes. These are great for segmenting words and blending words. 

Grab these FREE HERE.
Phonemic Awareness and RTI
When it comes to helping my struggling readers, specifically in kindergarten and first grade, many times it all comes back to the basics–phonemic awareness. Managing RTI can be overwhelming, but having a system in place to follow was a big help! You can read more about that HERE in this blog post.
The task of tracking all of the data, keeping students motivated, and coming up with intervention activities can be overwhelming! I know I was overwhelmed, at least! Here is the system I use to help me keep it all together.
Pre Assessment/Goal Setting
Intervention Activities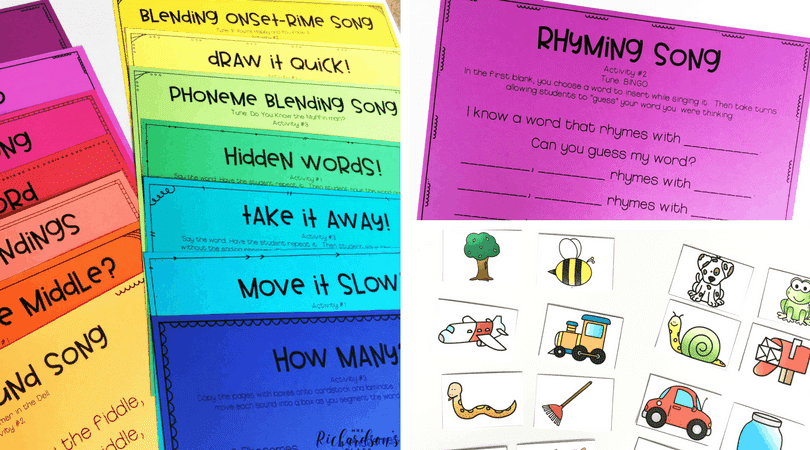 Organizing Phonemic Awareness Activities

I knew I needed everything in one place! I didn't have time to be grabbing one thing from here and another thing from there. I wanted everything together. The great thing about phonemic awareness activities is that you don't always need many different kinds of manipulatives. I put everything in a binder and divided it into 9 sections.
Each section has a cover page, 3 activities prepared (if there was anything to prepare), the assessment, and intervention recording page.
For the puzzle activities, I found these plastic velcro envelopes at Staples for only $0.99! They fit in my binder, too!
If you are interested in these activities for your students as they are learning to read or for intervention time with your little readers, you can get them HERE in my store. 
What are your favorite phonemic awareness activities? How often do you practice these skills in your classroom? What do you find works best for you? I'd love to hear what works for you!
pin it