Virtual balanced literacy may look different than it did in your classroom, but it still has the same benefits for your students. Balanced literacy with all of its components can fit into the virtual classroom. From guided reading to shared reading to independent reading to interactive read alouds, they can all be done.
I put together my top ten posts for you on how to do different elements of balanced literacy virtually. Several of them have freebies linked, so be sure to scoop those up!
Getting Started with Virtual Balanced Literacy
Before we jump into how to implement the components of balanced literacy virtually, let's start with how to prepare.
I'm sure you have mastered using Zoom by now, but if you need a refresher or have no clue, check out my post on How to Use Zoom.
Next, encourage families to have an area for distance learning set up and prepared. It doesn't have to be fancy! I covered my favorite tips to share with parents on my blog post HERE.
Finally, one way to get the best picture of where your students are academically is to get to know them socially. Once students feel comfortable with you and each other, they'll be more likely to participate in class. I love to start with get to know you games. Head to my post where I shared eight games and a freebie for you!
10 Posts for Virtual Balanced Literacy
How to Make Virtual Read Alouds Interactive
Interactive read alouds play such a powerful role in the classroom. Find out how to implement them while distance learning and how to invite student participation. I covered several ways you can make your read alouds more interactive and encourage students to participate.
Virtual Shared Reading: A Step-by-Step Guide
Students love bringing songs, poems, and big books to life through shared reading. Learn how to implement this virtually in my post with a step-by-step guide. I linked to a freebie to help you get started, too!
6 Tips That Will Help Prepare Parents for Guided Reading Distance Learning
Learn how to help parents and students be prepared for guided reading groups so no time is wasted. From how to organize and what to expect, you'll set students and families up for success when they understand how guided reading works. I also linked to a freebie in my post.
Best Practices for Virtual Reading Assessments
If you hang around here often, you know my passion for guided reading. Can you do it while distance learning? Absolutely! The first step will be to assess students so you get a good starting point. Find out how to do that and get the whole picture for each of your readers.
6 Steps to Launching Guided Reading During Distance Learning
Ready to launch guided reading during distance learning? This post is for you! I share my best tips and steps to get started implementing virtual guided reading. From preparing to delivering lessons to the tools you'll need, you'll be able to start guided reading to boost readers.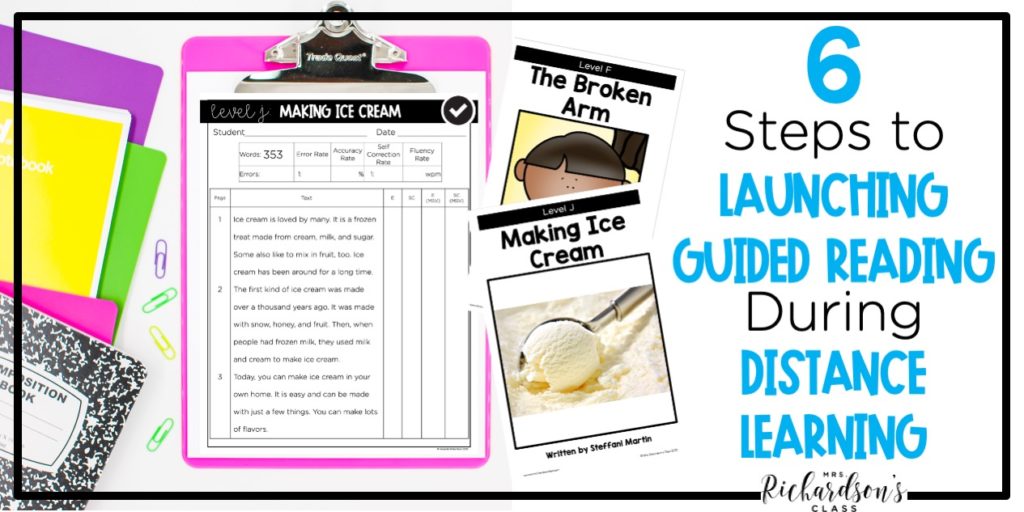 4 Practical Steps to Teaching Guided Reading Remotely
While this post is similar to the last one, it does have some different tips and tricks for you! Teaching guided reading remotely isn't easy, but you definitely can do it. Remember to give yourself some grace – it's okay if it doesn't quite look the same as in-person or takes a bit longer to master. You'll get it! This post will help.
How to Create Breakout Rooms on Google Meet for Guided Reading
If your learning platform uses Google Meet for distance learning, you'll need a way to create your own breakout rooms. On my blog, I walk you through how to do this step-by-step so you can successfully meet with guided reading groups.
Literacy Toolboxes: An Easy Approach to Literacy Manipulatives
If you have virtual students, you can prepare them for literacy activities with literacy toolboxes (great for in-person, too!). Grab the freebie and send it to your distance learning students to help get literacy manipulatives in their hands.
11 Useful Apps for Literacy Stations
Check out this post to find some useful and engaging apps you could use during literacy stations. These range from totally free to free to teachers to paid. Students can use them while you meet with guided reading groups to enhance their literacy skills.
How to Get Books in Students' Hands While Distance Learning
Virtual students will need access to books while distance learning for independent reading. You can't count on students having a variety of books at home. In this post, I shared seven different ways you could give students access to all levels of books at home.
Friends, I know this season may be tough for you. I want you to know I'm here to support you. Come join my Balanced Literacy Facebook group where we chat about all things balanced literacy. Come ask me your questions or search for ideas in the posts. We'd love to have you!