Step-by-step tutorial to use Zoom for online teaching.
Have you found yourself in a sea of technology overwhelm as you are trying to figure out how to deliver online teaching? Are you being asked to implement distance learning with your young students? With all that is changing so quickly, we all feel overwhelmed by how fast we need to adapt. But this isn't new for us, is it?
We change things daily.
We can fly by the seat of our pants.
We take teachable moments and run with them!
We can figure out how to virtually meet with our students and still have meaningful instruction!
Zoom is a platform (and app!) that I have used time and time again! I love it because it's dependable, it's simple to use, and right now, they are extending their platform to be used FREE for educators during this difficult time.
Still, you may be stuck trying to figure out how to use it. I have made you a step by step tutorial to show you how to use Zoom for online teaching!
1. Sign up FREE! Click HERE and be taken to the site.
2. Once you are there, you will enter your information. Then, they will send you an email. Mine came immediately! If you missed it, though, you can click and have them resend one.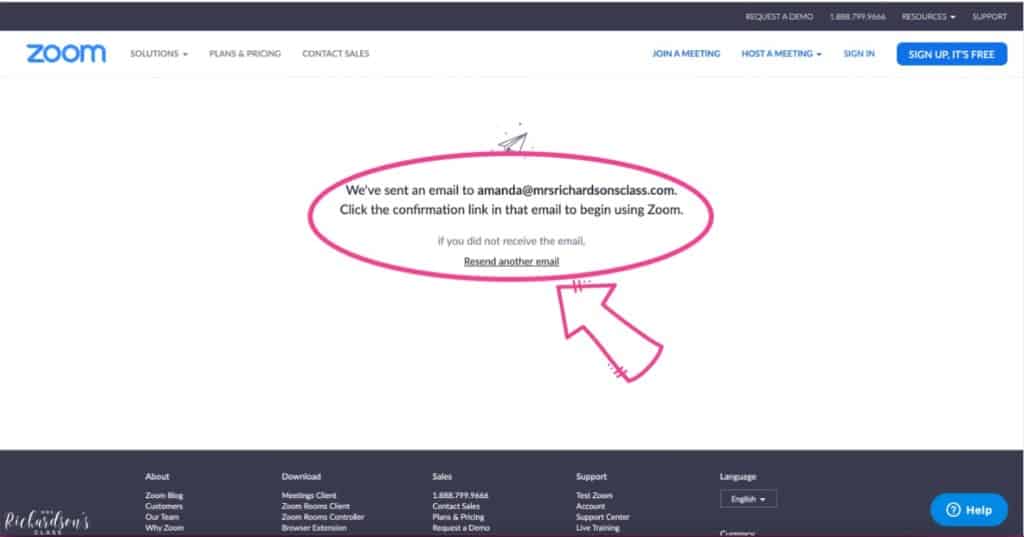 Inside your email, you will just need to click to activate your account.
3. Now, you will enter your password in two places.
4. On the next screen, you will be able to invite a colleague! I skipped this part, and you may want to, too. If you co-teach, this is a great way to send out an invitation.
5. Next, you will be able to do a test meeting! You will have the same personal meeting URL each time. You can save it from here, or from your account.
Click "Start Meeting Now".
6. Once you click, you will be prompted to open the zoom.us.app. (At least I was). You may need to click the blue text and download it for the first time.
7. Once you open it, now you will see yourself! You may need to turn on the video camera in the bottom left-hand corner. Mine was automatically turned off.
The space on the right allows you to see who is there, and you can even "mute all" to make sure that no one's background noise is distracting everyone.
Another thing you can do is scroll your mouse over the bottom of the screen in the left-hand corner and grab the link to share with parents. You can invite people via email or you can copy and paste the link.
The possibilities are ENDLESS! You can easily do an interactive read-aloud, shared reading lesson, phonics lesson, guided reading groups, math lesson, or even a science experiment!
You can share your screen, share your face, and change the views to show everyone at once, or the person who is talking! You can unmute and mute people as you please! 🙂 So, for example, if you call on someone, you can unmute them. If you are doing a small group lesson, you can leave everyone unmuted.
8. Once you are done, you scroll over the bottom and click "End Meeting". Then you will have the option for you to leave or to end it for everyone.
Teachers, you've got this!! Meeting with your students through Zoom for online teaching is a great way to continue to build community and provide predictability during these times of uncertainty.
If you are looking for more ideas for distance learning and remote learning, check out these posts HERE and HERE.