With many districts around the country opting in for some form of distance learning again this fall, it's time to really dig in and pivot our teaching practices to serve our students. What about guided reading? How do we launch guided reading while distance learning?
I wanted to help you map out a plan to help you launch guided reading while distance learning. It all starts with pre-assessments. Let's jump into how to manage pre-assessing students virtually so we can launch guided reading successfully!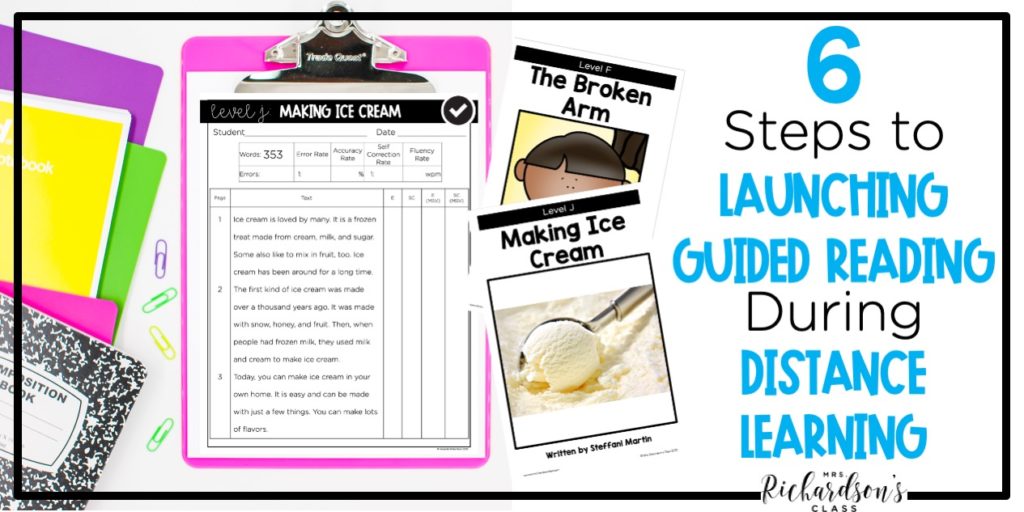 1. Prepare parents for pre-assessments so they know what to expect.
Find time during your virtual meet the teacher, curriculum night, or open-house to explain to parents what pre-assessments in reading might look like virtually. Walk them through the process, what it will look like, and what the results will tell you.
Let them know that because it's a pre-assessment, they don't need to prepare anything in advance. Explicitly let them know that for the best and most accurate results, they should not help their child during the assessment. Let them know you want to serve their child as best as you can, and an accurate pre-assessment will allow you to do that.
Ask parents and students to set up an environment ideal for testing. You might suggest:
A quiet room with minimal distractions.
Headphones with a microphone so both you and the student can hear each other clearly.
For younger children, a parent present to help keep the child-focused if needed.
2. Use SignUp Genius to schedule pre-assessment appointments.
Second, use SignUp Genius to create a schedule for one to one pre-assessments for all of your students. You can find my SignUp Genius tutorial HERE. Block off sessions for each student, providing as much variety as your own schedule allows.
This will give you quality time with each student so you can get to know them and their reading skills so you can accurately launch guided reading while distance learning.
3. Take time to build relationships with students before beginning testing.
Building rapport and relationships with students will help make them more comfortable with you and confident in their skills. Younger students might be shy during the first days of distance learning and not be able to give you an accurate picture of what they know. To help connect with students, check out these posts:
4. Do Pre-Assessments in small chunks instead of all at once.
Fourth, for your kindergarten, first, and second grade students, try to break up your reading pre-assessments into small chunks instead of trying to do it all at once. Depending on the assessments your school district wants you to complete, you could break it up into:
This will help students from getting too tired or bored while assessing so you can get a clear understanding of each child's abilities to help you launch guided reading while distance learning successfully.
5. Analyze the pre-assessments and create guided reading groups.
Next, if you want to meet in virtual small groups, take a look at the running records for all of your students to see what reading level they will be on. Start creating your guided reading groups based on reading level to start. Then, you can form strategy-based groups as you get to know your readers.
6. Gather materials to use for guided reading while distance learning.
Finally, plan out what materials and resources you will need to launch guided reading through distance learning. Think about each element of guided reading and determine what you can practically do remotely. Remember that it may not look the same as in the classroom. That's okay! Try to get in each component as best as you can, even if some if it is done on students' own time.
You might consider these materials:
Finally, you'll be set to launch guided reading while teaching remotely. You can check out a few practical tips for this on my blog HERE.
If you still don't feel confident or have a strong understanding, I can walk you through the entire process, step-by-step with video examples in a professional development product Implementing Guided Reading During Distance Learning.
This detailed tutorial includes everything you'll need to successfully launch guided reading during distance learning including:
3 full-length lesson video lesson examples: an introduction, a group with breakout rooms, a group without breakout rooms
Parent notes and student meeting invitations
Student cue cards
Tutorial for virtual running records
Reading response journal and forms for students in both printable and digital formats
Don't miss out on the opportunity to reach every reader with powerful small group instruction. You can launch guided reading during distance learning and have thriving, not just surviving, small groups!
pin it