You sit down at the guided reading table. Five sweet smiling faces are staring back at you. You have a perfectly organized guided reading binder. Then what? Do you know what guided reading skills you need to cover with this group? Do you feel prepared and relaxed or slightly anxious about knowing what to do and say?
If you have ever felt a little frazzled trying to figure out what guided reading skills to include in your lesson, don't worry. I have you covered! My Guided Reading Resource Cards have all of the skills and strategies you need to teach at each guided reading level for A through Q.
Just print the cards out, laminate them, and you'll be totally set for guided reading. No more guessing. No more anxiously throwing something together for your lesson plan.
The Guided Reading Resource Cards have all of the information in one place so you can teach the top skills for guided reading. I broke them up into three categories so you can easily reach every reader.
Behaviors to Support in Guided Reading
The first set of cards in this freebie share the behaviors to teach and support in guided reading from pre-A to Q. In the early levels, the skills can cover concepts about print like holding a book and reading left to right.
Then, they get more advanced like learning to reread and self-monitor. Finally, students move towards focusing on the deeper meanings, reading silently, and monitoring themselves.
Guided Reading Word Work Skills
If you've ever been stuck on what to do with word work in guided reading, you're not alone. The Guided Reading Resource Cards have word work activities for each level of guided reading. Just flip to the card for the level of your group, and you'll find the word work skills readers at that level need to practice. You can easily plan your lessons with this in hand!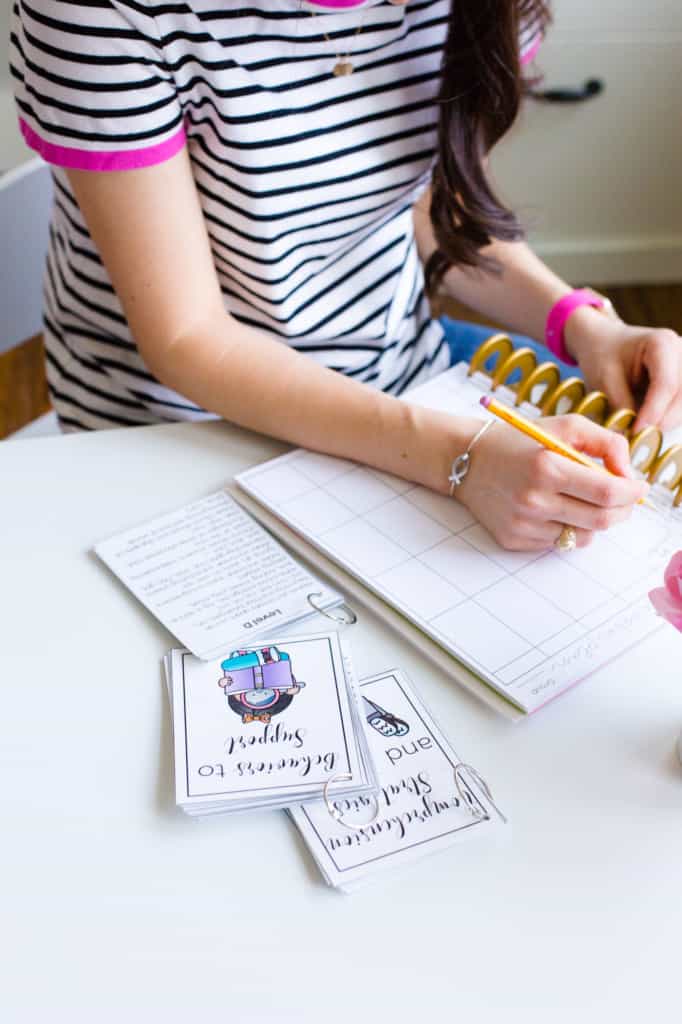 Comprehension Strategies and Fluency Skills
Checking for reading comprehension plays a key role in helping readers advance. Knowing what comprehension strategies and skills they should have at each level is so important. I included a list of comprehension strategies for each level for pre-A through Q. This will equip you to support readers struggling with comprehension.
I also added fluency progression for the levels that had big changes. Assessing fluency in guided reading leads to strong readers with deep comprehension capabilities.
pin it
You click and grab your FREE Guided Reading Resource Cards today to be set for creating effective guided reading lesson plans.
What If I Need More Help?
While the resource cards are one of my favorite ways to help teachers get started with guided reading to create engaging lesson plans, I know it's possible you might need more. I'd love for you to hop on the waitlist for Guided Reading Unpacked.
During this top-rated online professional development course, I will guide you step-by-step, from beginning to end of guided reading. You'll learn:
how to prepare for guided reading
how to create effective lesson plans
how to deliver a guided reading lesson in kinder, first, and second grade
how to assess in guided reading
Grab your Guided Reading Resource Cards, and then join me for Guided Reading Unpacked.