92 words. 100 words. It doesn't matter which list you use – Dolch, Fry's, or your own. Mastering sight words is a key factor in reading success with little learners. That makes progress monitoring for sight words important.
But the task of tracking it all can seem so daunting. How do you keep students motivated? How do you get parents engaged to help support what you are doing in the classroom? How do you actually track the students' progress?
Every time I thought of it all, my head would spin. I had to figure out a better, more efficient way to do it all. And I did. I created a sight word monitoring system that is simple, user-friendly, and effective at tracking students' progress throughout the year. 
Kindergarten Sight Words: An Editable Progress Monitoring System has everything you'll need in one, organized place. Let me show you what's included and how you can use it in your classroom.
Organizing the Sight Words
I began by breaking up the Dolch sight word list into groups for each six week grading period.  I added the words for colors and numbers because they are just too important to leave out. 😉 I put each of the six sets on a ring. This made it a breeze to assess the words at the end of each week.
Wait…Assess the Sight Words Each Week?
Yes, yes my friends. I found a time that didn't interrupt regular instruction time. The weekly assessment only takes a minute. You can test your students during:
Whole group restroom breaks
Computer lab time
Whole group water breaks
Morning work time
While students unpacked for the day, waited for classmates to finish up, or completed work, I listened to them read their weekly sight words. As they read the words, I used my checklist to keep track of what they got correct and what they missed.
If they gave an incorrect response, I wrote their response. This was great for RTI data.  It also allowed me to look for patterns in their reading.
Student Data Folders
The students used their data folders to keep track of the sight words they had mastered and the ones they still needed to work on. For each grading period, there is a new sheet. They always loved being able to color more bubble gums!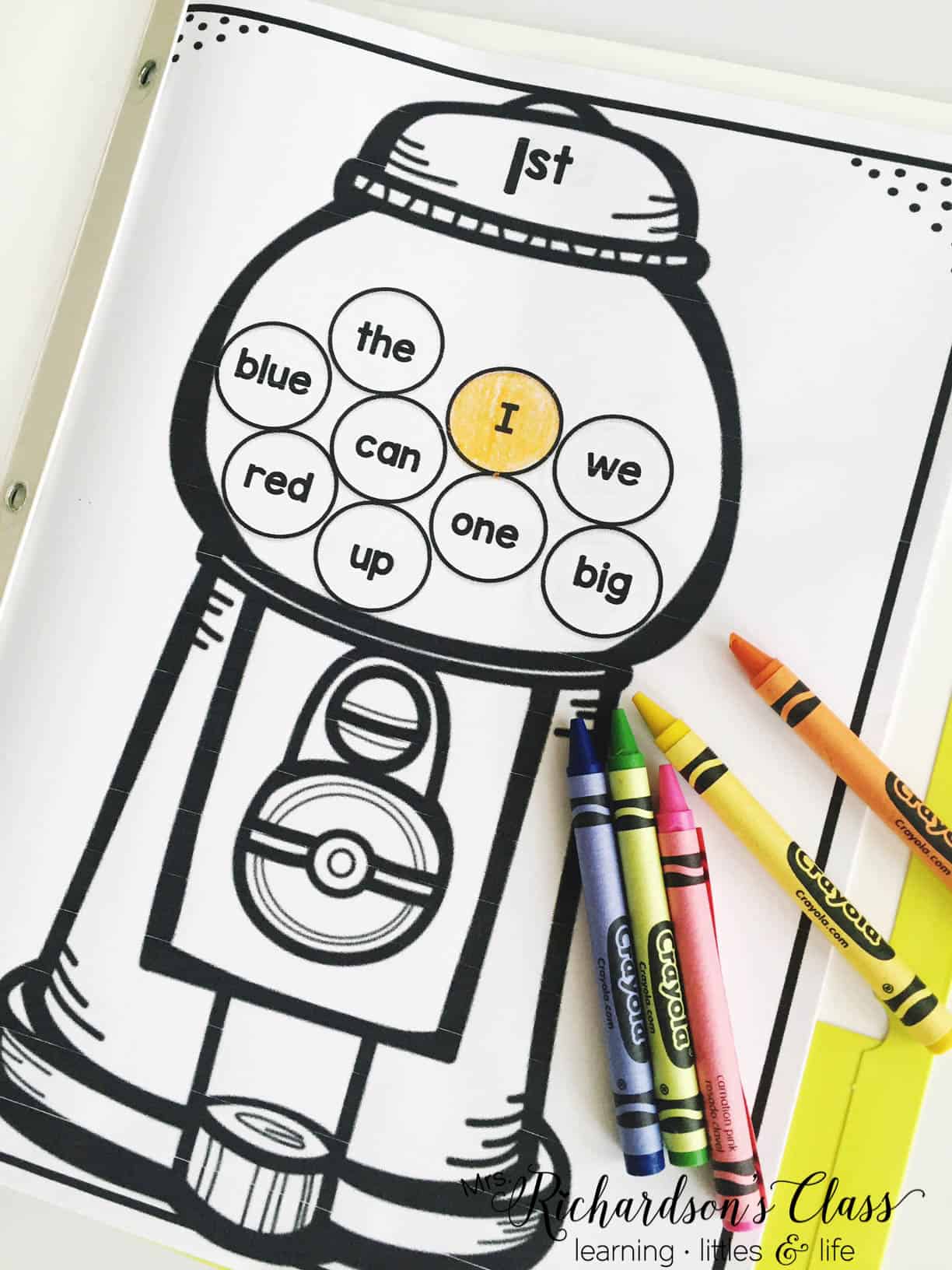 Student Certificates
We celebrated each student by giving them a certificate if they mastered all of the words for those 6 weeks. Even if it was the 3rd six weeks and a student was just mastering the first set, we celebrated!

Teacher Data Binder
I like to keep everything I need all together in my binder.
Inside the binder I keep the notes that go home with the sight word baggies, student certificates, and our sight word pacing map. Behind each divider I keep a checklist page for each student for each of words.
At the end of the day, I have a binder that has valuable data and keeps me on track with progress monitoring for sight words every week. It's convenient, simple, and helpful.
Parent Communication
For students who need more sight word practice beyond what we do in the classroom, I call on parents to help. Best thing ever! Seriously.
I make flashcards for each student based on the words that they have not yet mastered. I place the cards in a baggie and send it home in their folder with a note. When they master a word, I take it out of their baggie. I don't do this for every child. But for my low students who just needed more practice at home, this simple and easy system provided just that.
Grab the note to send home with your parents HERE for FREE.
If you're ready to make tracking sight word data easy, head to my store and pick up your own Sight Words: An Editable Progress Monitoring System.  
How do you keep track of progress monitoring for sight words? Do you have a system that works? I'd love to hear more about it!
pin it