You guys asked for it, and its finally here – Guided Reading Level K. Just like the kindergarten and first grade guided reading kits, this one has everything you need to successfully implement guided reading to advance the readers in your classroom.
What I love about these kits is that no matter how experienced you are in guided reading, they are for you! If you've never implemented guided reading before, the scripted lesson plans will coach you through the entire process. If you're already a pro with guided reading, the in-depth lesson plans will help refine your techniques to take your readers deeper into each lesson.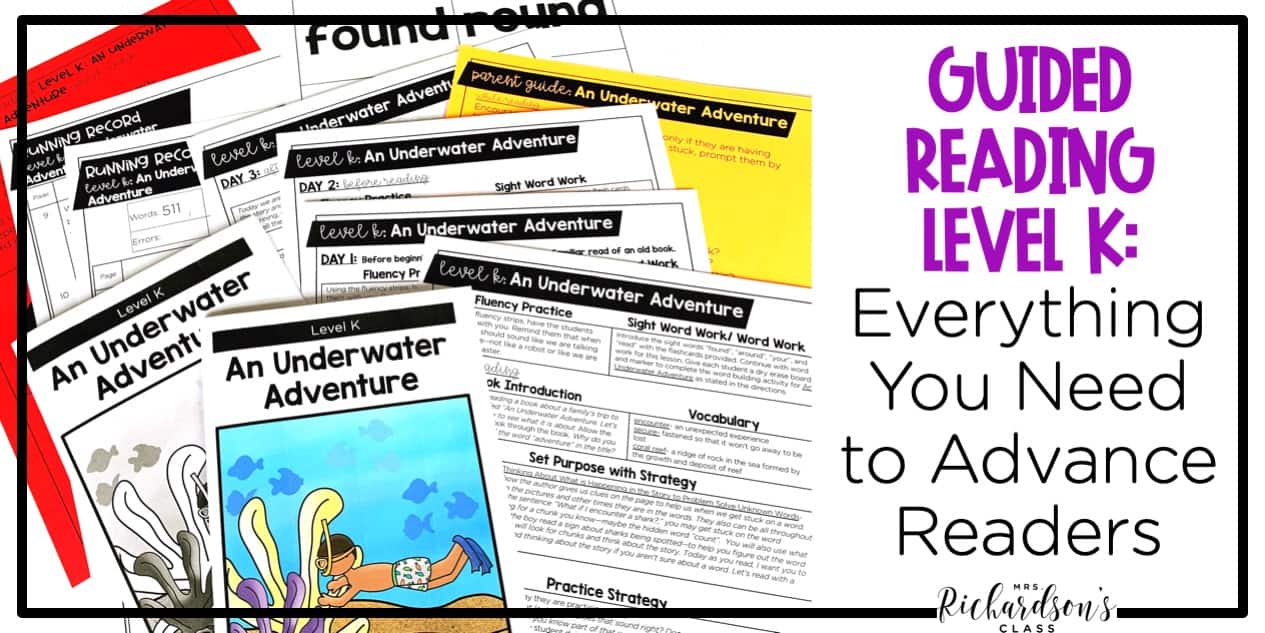 Let's dive into what's inside Guided Reading Level K.
Guided Reading Level K Overview
Before we can start teaching guided reading at this level, it's crucial to understand where students came from, what skills they will work on now, and where they will go next. I included a teacher's guide that lays all of this out for you.
This kit also includes an overview for each book that includes the reading strategy, comprehension focus, sight words to practice, and word work to implement. You'll be able to see the map for the entire unit at a glance.
Next, there is a guide for each component of the guided reading lesson cycle for this level. You'll know exactly what each of the pieces should look like and why it's important.
Finally, there are some guided reading organizational tips for your binder and materials to help you easily prepare for each lesson. There are labels and tabs to help you get started.
6 High-Quality Student Texts
This kit has six student texts for you to use with your guided reading groups. There are three fiction texts and three non-fiction texts. Each book is available in color and black and white.
Scripted Lesson Plans
Each of the books has both a one-day lesson plan and a three-day lesson plan. The three-day plan is new to this level, and I love it! It will help you really dive deep into comprehension and post-reading activities with your readers.
The lesson plans carefully lay out what you and your students do during each part of the lesson including fluency practice, word work, book introduction, vocabulary to introduce, setting a purpose, practicing the strategy, teaching points, comprehension questions, and guided writing/writing connection activities. The entire lesson is there for you!
Running Record Forms and Tips
Part of guided reading includes assessing students' accuracy and fluency. Guided Reading Level K includes detailed directions on how to take a running record and calculate results.
Each book has a running record form with the text. Each book also has a blank running record form for you to take a running record of a snippet of a text – maybe four to five pages. A shortened running record will still give you a peek into how your student is doing on this level with a particular text and where to support them.
If you want to read more about running records, check out How to Take a Running Record and 7 Tips for Running Records.
Teaching Posters to Aid in Learning
To better help your students use and implement their reading strategies, I included teaching posters that reinforce the ones used in the Guided Reading Level K kit. I like to show them when I introduce decoding and comprehension strategies. Then, I hang them up behind my table to help students remember to use them.
Student Materials for Each Lesson Component
You will be totally set for the entire lesson with all of the student materials you'll need. This kit includes:
fluency practice strips
sight word cards
illustrated vocabulary cards
word work materials
You can simply print out the materials provided. Or, if you prefer, you can always use other hands-on materials like magnetic letters, letter tiles, etc. Just know that if you need it, I provided it for you!
Parent Involvement Notes
The final piece that is important in advancing readers is including parents in learning. There are two types of parent notes in Guided Reading Level K:
An overview note that tells parents what their reader can do now, what they will be working on while on level K, and what the next set of skills will be in level L.
Each book has a parent guide note that gives tips on how to help children when they get stuck during a text and questions they can ask their child after reading.
Head to my store to check out Guided Reading Level K. It is also available in a growing bundle HERE that will include levels K, L, and M.
pin it