When you think of the back-to-school season, you probably think of decorating your classroom, labeling everything with students' names, participating in professional development, contacting parents, and prepping for Meet the Teacher Night. There is so much to do! To help make this school year a bit easier, I put together a list of my favorite back-to-school freebies for kindergarten and first grade.
These back-to-school freebies cover things like parent communication, reading small groups, classroom management, and literacy stations. They're sure to make life a bit easier as you adjust to a new group of students!
Literacy Manipulatives
Literacy manipulatives are one of my favorite tools for reading. They help students cultivate language skills with hands-on practice. Literacy manipulatives can be used with phonics in a whole group setting to building words with letter tiles in a small group setting. THIS BLOG has a set of free literacy manipulatives!
Parent Communication Log
Documenting and tracking parent communication doesn't have to be complicated! Use a simple log to keep track of who you've contacted and why. I always aimed to make at least one positive contact for each student during the first two weeks of school starting. It's nice to reassure the parents of how much you care for their child, are excited about them being in your classroom, and appreciate them helping their child get back into the routine of school.
You can grab this free in THIS BLOG!
ABCs of Kindergarten
This document is one of my favorite ways to teach parents what to expect in kindergarten and share expectations. I sent it home on curriculum night so parents had helpful information all in one spot. You can edit it to make it work for your classroom. You can get this FREE HERE on my blog!
Back to School How-To Book
The beginning of the year is filled with read-alouds and procedures being taught one after another. After you have spent a week or two practicing each of these procedures, have your class practice writing and showing that they know the procedures by creating this class book! It's a great way to reinforce everything you've taught. You can get it for FREE HERE!
My School Emergent Reader
Emergent readers are a great way to reinforce high-frequency words and integrate science or social studies into reading. I have a free emergent reader you can use for morning work, early finishers activity, or in a literacy center. It's perfect for the back-to-school season! You can get it FREE HERE! You can read more about using emergent readers in the classroom on my blog here.
Supporting Reading at Home Handout
Sometimes parents want to help cultivate a love of reading in their own child, but they don't know how. Many times I have experienced parents who don't love to read, but they know how important it is so they do want their child to love to read. I created a printable page that you can share with parents as they journey alongside you to help cultivate a love of reading!
You can send this home at the beginning of the year to help parents cultivate a love of reading at home. You can get it on my blog FREE HERE!
5 Free Name Recognition Center Activities
One great way to not only help students learn each others' names but to start building literacy skills is through name activities. First children master auditory name recognition, and then they learn their names visually. This is one of the most meaningful words we can teach our students. When they recognize their name, they'll have a foundation to catapult their learning. Students will begin to connect letters to sounds and spelling patterns and eventually to reading words.
You can get five name literacy stations on my blog HERE!
First Grade Science Curriculum Map
Do you struggle to fit science in? Are you looking to make science planning a breeze? This first grade science curriculum map shows you just how to make that possible! Science can easily be integrated throughout your day and you can have an easy-prep and planned science block, too! Grab it HERE today to make planning easier!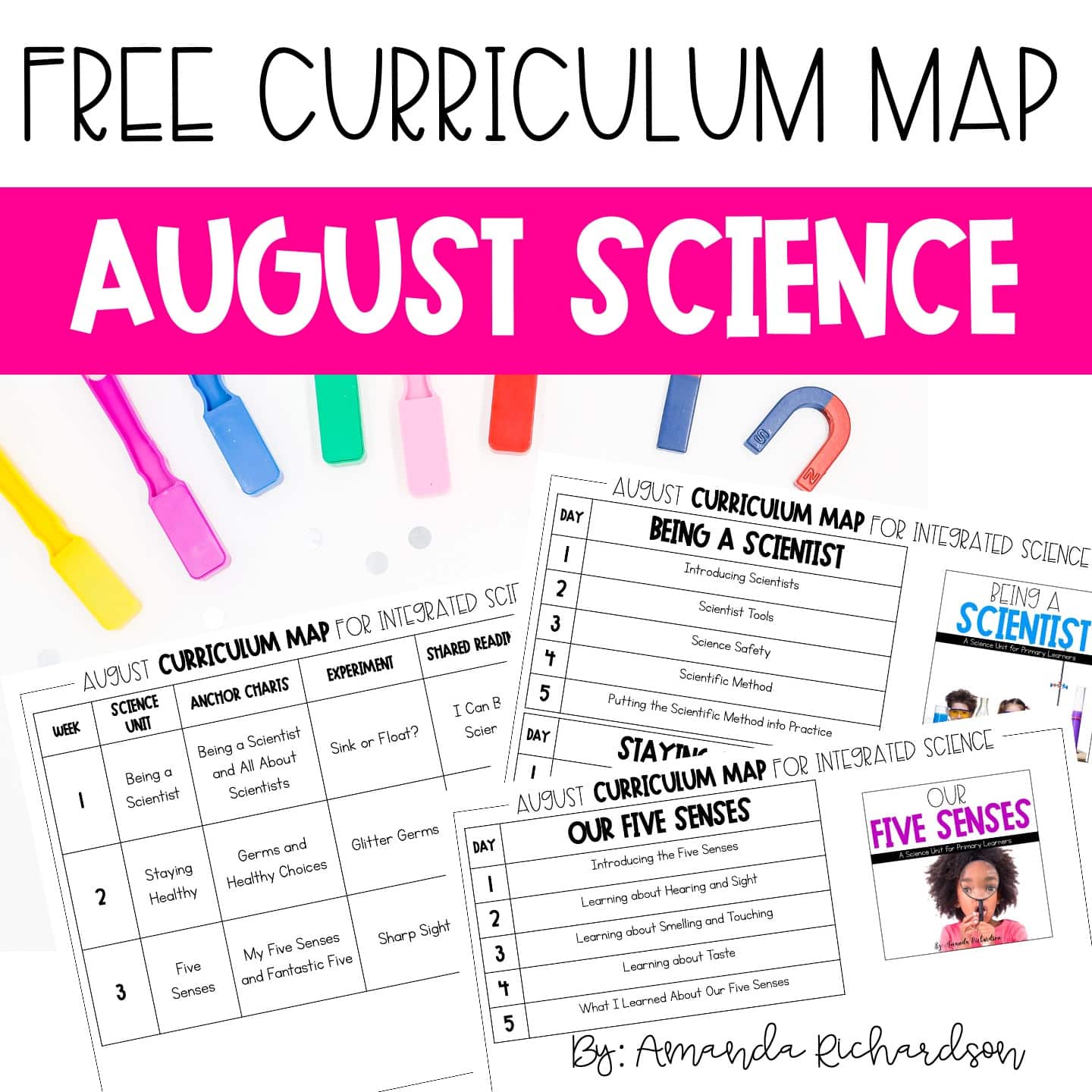 Get-to-Know You Games
While some students may see familiar faces in your class, many may not know other students in their class. Help grow a strong, healthy classroom community with meaningful relationships through get-to-know-you games. You'll be able to help students find things in common with each other and make connections. You can use these FREE get-to-know-you games in small groups or as a whole group. Get them by joining my email list below!
If you found these back-to-school freebies helpful, I have more back-to-school resources that you and your students will love! Just click on the images below to see previews and more details!
I know back-to-school season is always bananas! I hope these resources take just a little bit off your plate. Hang in there, friend. You've got this! Let me know if you have any questions about any of the back-to-school freebies or resources.