August will be here before we know it! I know how crazy the beginning of the year can be. Getting to know new students, organizing materials, and mapping out your curriculum for the new year can be overwhelming. I want to share something that I think will be a gamechanger for teaching science in August – the First Grade Science for August unit.
This product was created with YOU in mind. It has everything you will need to engage your students during your science block all month long and integrate science throughout the day.
The topics covered for August are:
"Being a Scientist"

"Staying Healthy"

"Our 5 Senses"
The curriculum map I created shows you how to plan your science block in a snap. You can check out the curriculum map for free HERE. There is also a detailed, weekly guide to show you how to successfully integrate science, and have some fun doing it.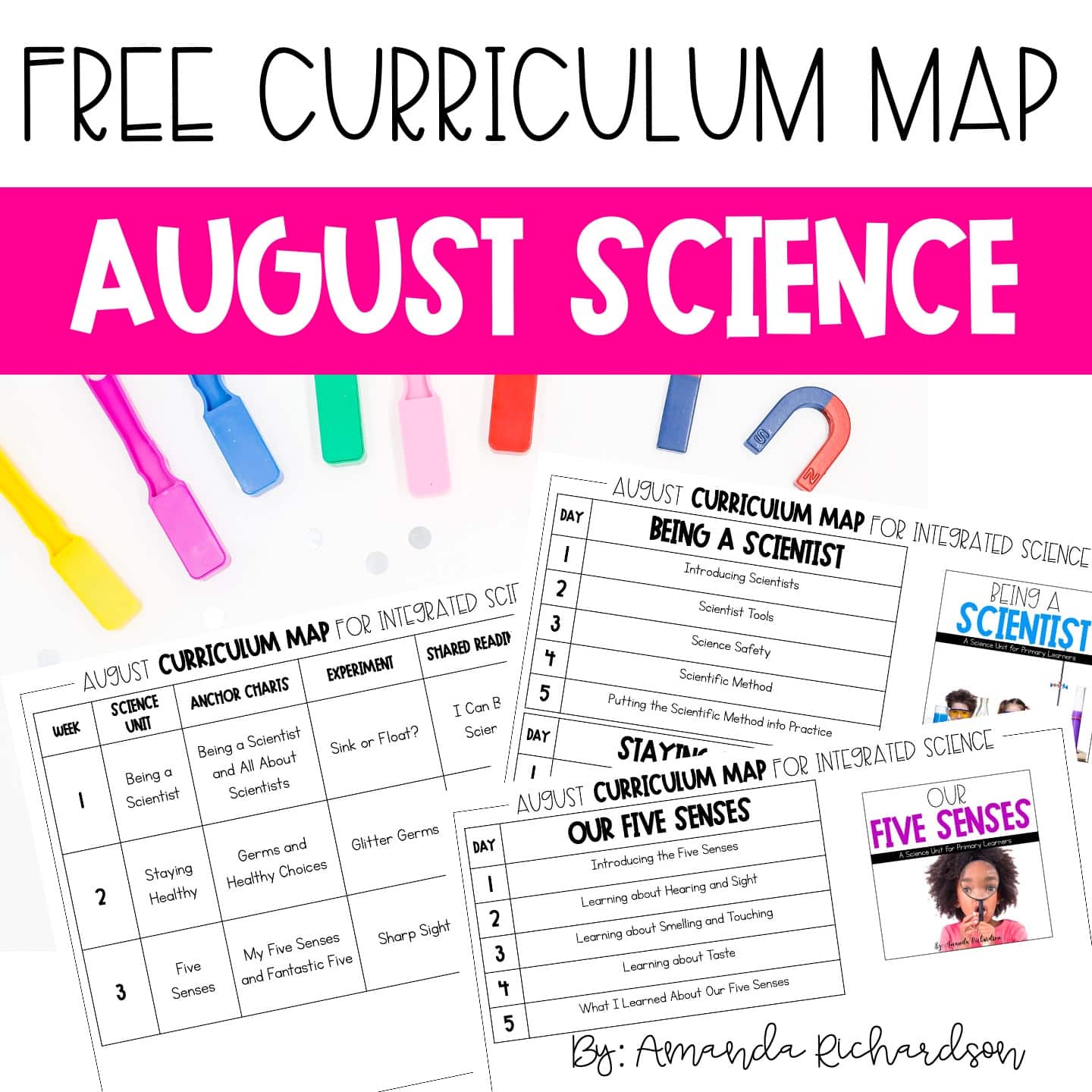 Let's dig into what is included for each unit for August!
Teaching Plans and Posters
Each weekly concept has a detailed teaching plan for every day of the week. The plan has the objectives, activities, and materials needed in an organized layout so you can easily prep for science each day. The posters are ready to print (or display digitally) to reinforce learning and vocabulary. These are also a great way to reach your ELL students.
Anchor Charts
I love using anchor charts! They connect prior learning to current learning, and they keep learning accessible to the students. Anchor charts are another way to reinforce new vocabulary that we have been working on. Each of the three topics includes an anchor chart, tips and tricks for making it, and the materials you'll need all laid out for you.
Interactive Notebooks
Each of the topics also has a component to include in your students' interactive notebooks. Because writing about learning can reinforce it, these are a fabulous way to integrate science into shared and interactive writing!
Science Experiments
Experiments help students dig deeper into their learning while getting a hands-on experience. For science in August, I included experiments that will be simple for you to prepare, organize, and introduce the scientific method to your students with.
This unit has all of the handouts and visuals you will need to take your learners through the investigation. While you may not be ready to let students work on this independently in a station, visual instructions are provided for them to follow step-by-step. Each experiment has teacher tips to make sure you completely understand everything your students will need to know! Your students will have fun learning!
Shared Reading and Phonics
Shared reading is a great way to teach your class different reading and phonics skills and let your students practice with you. You can read a little more about that HERE. Each topic this month has a song or poem for shared reading included. The phonics skills that can be practiced with this unit are identifying real and nonsense words, beginning sounds, and ending sounds.
One teacher who has already purchased this unit said,
"
This product is fantastic! It is very detailed and everything I need is right there to teach each concept. The lesson plans make it so easy to have everything ready to go! I can't wait to prep everything now so it is ready for the beginning of the school year! Thank you…!"
Friends, that is why I created it – so you have confidence in teaching your students with quality, engaging materials during science in August. I certainly hope you'll love it just as much! You can find the First Grade Science for August HERE.
If you'd like to purchase the First Grade Science Bundle for the entire year, you can find it HERE. It has science units for August through May. When you purchase the year long bundle, you also receive Close Reading Passages Spring and Fall as FREE bonuses.
pin it