Have you been there, at the table- staring at a blank lesson plan template for level C guided reading, frantically searching for how to write a lesson, or flipping through the same book over and over again, hoping a teaching point will jump out at you? I sure have!
Since then, I've spent time researching, implementing guided reading with students, and really figuring out what students at this level truly need. This led me to create Guided Reading Level C: an all-inclusive leveled reading kit that will help you get started with guided reading, improve practices, and help you boost your readers.
Through this kit, you'll have everything you'll need to teach guided reading like a pro and boost these readers. You'll feel like you have a coach right alongside of you.
Know the reading behaviors for level C guided reading.
To teach students at this level, you need to know where students have been and what reading behaviors they should be working to master now.
Readers on level C are making progress towards word solving and self-monitoring. Some behaviors you'll want to start intentionally supporting and noticing are:
Uses pictures, initial consonants, and known words to predict meaning, monitor, and self-correct
Cross checks meaning (usually pictures) and first letter of a word
Uses known words as anchors
Segments and discriminates sounds in CVC words in sequence
Self-monitors by checking his/her reading
You can grab the free Guided Reading Resource Cards that break down behaviors to support (plus a set of cards for word work and comprehension strategies and fluency) for levels A-Q in THIS POST.
Implement powerful lesson plans.
Easier said than done – I get it.
In order to better understand what goes into an effective lesson plan, I put detailed lesson plan component descriptions that will walk you through all parts of the lesson. From alphabet and sight word practice all the way to comprehension practice and guided writing – you'll feel confident knowing "why and how" for each piece.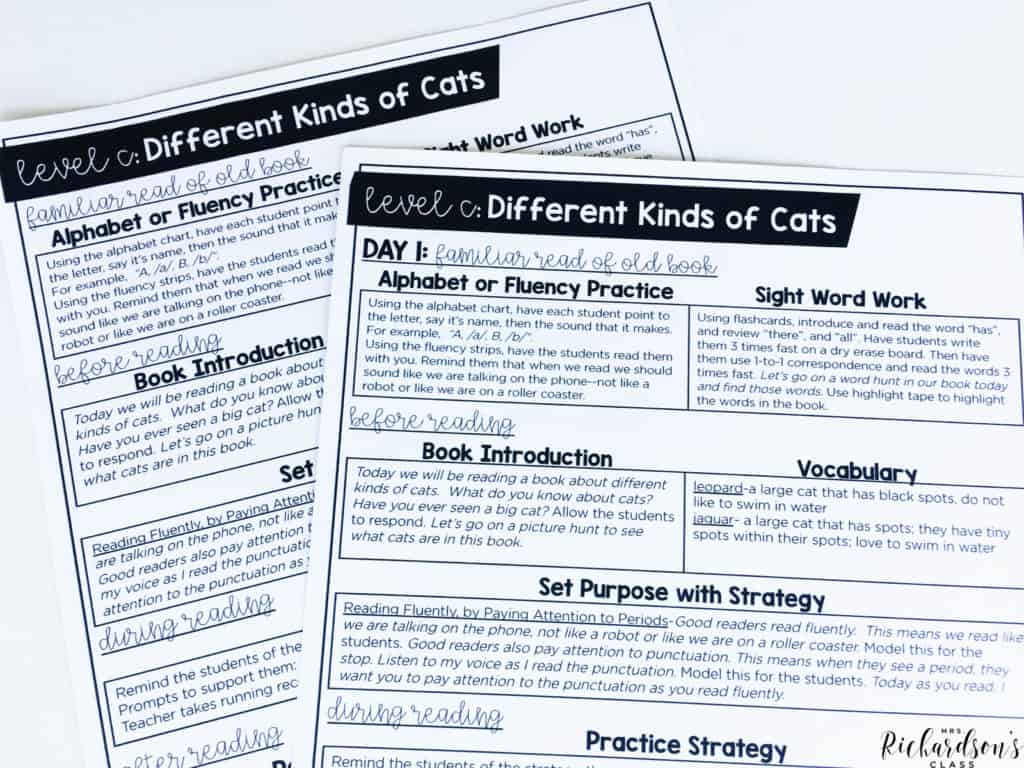 Another guide in this kit that will explain where the readers came from, what they are working on, and where they go next.
Each of the six books includes both one day and two-day lesson plans for you. The lesson plans show you what to say during each part of the lesson if you need detailed guidance.
You'll become an expert before you know it with so much practice in your groups!
Use effective student materials.
Students need solid, quality books to read from that are appropriate for each level. They also need effective supporting materials that reinforce reading strategies, phonics, and word work at each level. Check out what's included for level C:
Readers
Students need to be authentically reading both fiction and nonfiction at this point. The Guided Reading Level C kit includes three books of each that come in both color and black and white. The pictures support the text to help your readers self-monitor more independently.
Teaching Posters
Colorful reading strategy posters will help remind students to think about how they can solve words. I loved to hang these behind my table so they were easy to see and reference.
Word Work
Each book's lesson plans include explicit directions for word work. I added every printable you'll need for word work as well. Some of the things included are elkonin boxes, letter tiles, picture cards, and more.
Take accurate running records.
Taking running records gives you a good picture of how students are doing at a particular level, what strategies they are using, and if they are ready to try a more difficult book.
More important than knowing how to take a running record is knowing how to analyze them.
This kit gives you a breakdown on running records and includes forms for each book. Tracking student progress will be easy!
Send home parent guides to encourage reading at home.
Keeping parents engaged in school is so helpful to students. When students move to level C, there's a note to send home that explains what their reader will be working on.
Each individual book also has a note to send home with parents to walk them through reading the book with their child. It breaks down what to do while reading and after reading with guiding questions.
You can make it easy to empower parents to help with reading education!
Grab your own Guided Reading Level C to get started today growing strong readers and building your own confidence teaching guided reading.
One teacher who already implements this in her classroom said,
"These resources have been a lifesaver! I feel like my guided reading time is so much better  now!"
I hope you'll feel like an expert in no time. Let me know if you have any questions. I'm always happy to help!