Launching literacy stations is a big task! You plan each station, carefully explain each one, provide time for your students to practice the station, and then let them go. But what happens when they don't last the full 20 minutes at a workstation? What happens when they constantly need help? What happens when your little learners are just struggling with staying on task during literacy stations? How do you combat this?
I have been there, friend! Let me share some tips that I learned during my years in the classroom.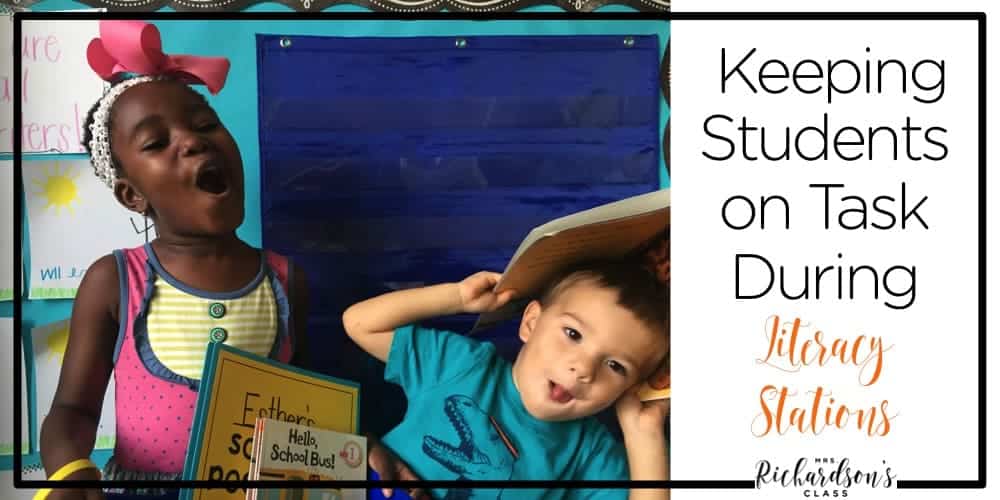 Let them choose books for their book tubs!
Yes, let them book shop. Not quite sure how to do this? Don't fret! Watch this video as I share a great tip for you!
Add new things!
Now, don't think I'm changing up what I have always said which is "keep the same stations all year." You can add new things, though! Be sure you are adding a new sort from your shared reading time. Be sure your shared reading poem is getting moved to your poetry or pocket chart station. Add new types of letters for word work. Large magnetic letters instead of small, bottle cap letters, and paperclips were always fun in our classroom!
Try some of these sight word tips!
Maybe they haven't mastered a skill, but they need new ways to practice it and YOU need these ways to not take 15 minutes to explain. I have been there, friend! Here are 25 sight word tips. Choose some for your word workstation.
Revisit the amount of activities at a station.
Don't hesitate to provide structure during literacy stations and give them fewer choices sometimes. If your students are getting off task and not doing well with choosing an activity, take some options away, not as punishment, but to help them pick better.
Be sure you are implementing the 3 Bs rule.
Blood, barf, bathroom. The 3 Bs were the reasons they could interrupt me during guided reading. Otherwise, they needed to be working diligently. Grab the FREE poster here and help make sure your little learners are staying on task.
Establish a station expert.
For each workstation, I liked establishing an expert. This student's job was to answer questions about the station and help a friend if they got stuck and their station partner wasn't able to help. If something is going wrong with the station, the station expert is there to help intervene.
And friends, if all else fails, sometimes you just need to close a workstation for a few days to drive home a point. Don't be afraid to do that! You can always have a grand re-opening like my friend did in her classroom that I helped her with!
pin it