I love when I can use something simple and affordable in my classroom in so many ways! Clothespins are JUST that.  I want to share 5 simple ways to use clothespins in the classroom with you!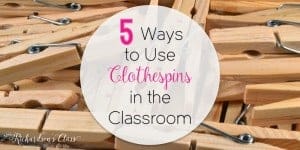 Display Student Work
This is nothing new at all, but I don't know why I didn't do it years ago! I simply laminated construction paper, then hot glued a clothespin to the top. I then glued a little paisley decoration on the top of the clothes pin to match my bulletin board boarder. It's so simple to change out student work this way.
You can also easily hot glue clothespins to most classroom walls (cinder blocks are perfect for this)! They peel right off when you are ready to take them off.
Work Station Activities
Using clothespins in work stations is one of my favorite things. I love that students are able to not only practice the academic skills covered in the station, but they also work in some fine motor work for their little hands.
You can read more about these station activities HERE and HERE.
Teaching Phonics
As I was brainstorming other ways to use clothespins, it occurred to me that it would be SO simple to write digraphs and blends on the clothespins and use them as visuals of the letters and sounds they make.
For example, student says: 's' 'h'
Student then says: /sh/
Then repeat with other blends and digraphs!
I also love the idea of making each child a QU wedding clothespin to remember this tricky rule!
Earbud Holders
These always ended up a tangled mess in my classroom. Goodness gracious. But this, my friends, was simple to make and the kids can easily use it!
I followed this tutorial to make mine.
Display Mini-Anchor Charts
I don't know about you, but since I love anchor charts, I was constantly using mini-anchor charts as I taught concepts.  You can easily change them out with different units by using clothespins that are hot glued to push pins, then pushed into your bulletin board!
Do you have any other ideas for using clothespins in the classroom? I would love to know!
You may also be interested in following my Classroom DIY Pinterest board for more simple ideas!
pin it