Kindergarten teachers know that the beginning of the year brings in a variety of students with different skill levels. Some know their letters and sounds, some can read, and some can barely identify the letters in their own names. One thing all of these students can benefit from is practicing name activities.
Why Should Students Do Name Activities?
Name activities in kindergarten have so many benefits and give you opportunities to teach other things with them.
Name activities lend themselves to building classroom community as students learn their new friends' names, especially if you use pictures with the names.
You can squeeze in extra things like word work, phonics, and even math while students do these activities.
It gives students hands-on practice with letters and words in an engaging way.
This FREE PRINTABLE has five name activities that are perfect for the kindergarten classroom. After introducing each one, you can use it during:
literacy stations
morning work
intervention time
word work
First, download the free printable. Next, write students' names on index cards or sentence strips. If you can, add a photo of each student. Finally, place the task cards and name cards in a pocket chart. If you don't have a spare pocket chart, they can do these activities on the floor or a table. Easy and done!
1. Boys and Girls Name Sort
Have students practice sorting pictures, names, or names with pictures into boys or girls. For non-reading students, you can have them start by sorting just the pictures. Then, they can move to sorting names with pictures. Finally, they can sort the names and match the pictures.
2. How Many Vowels?
Looking for name activities for more advanced kindergarteners or to help you introduce vowels? This one is perfect for introducing vowels in kindergarten or reviewing vowels in first grade. Just have students sort names by how many vowels each one has. You can also let them match pictures to the names at the end (they always love this part!).
3. Has or Does Not Have Activity
I love this name activity for kindergarteners to practice identifying alphabet letters. Place the "Does have the letter" card on one side of a pocket chart and the "Does not have the letter" on the other side. Then, choose the target letters you'd like students to practice. Finally, students sort the name cards.
4. Count the Letters
Counting letters in a name also helps students practice one-to-one tracking, an important skill in reading. While is one of the name activities that supports all kindergarten readers, it especially can be helpful when working with non-readers. After setting up the number of letters cards, just have students sort names by the number of letters.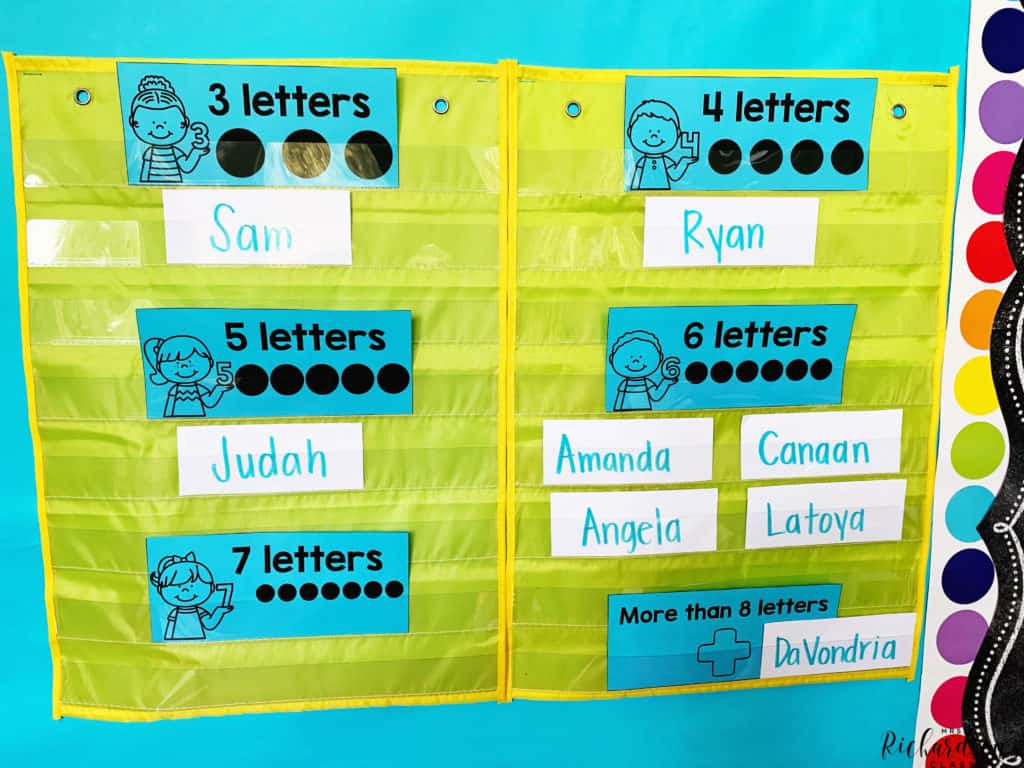 5. How Many Syllables?
After you have introduced and taught syllables, use this activity to let students have hands-on practice. Just print the syllable sorting cards and let students sort names by the number of syllables. I liked to have students count syllables three different times using any of these ways:
Clap the syllables
Snap the syllables
Pat the syllables
Hum the syllables
Chin count (Say the word. Put your hand under your chin. Count how many times your chin hits your hand).
Grab your FREE printable with all five of these name activities now. The download has:
Teacher directions
All printables needed for each activity
5 *bonus* name activity ideas
If you want more hands-on activities to help boost your students, check these out in my shop.  They are all perfect for morning work, literacy stations, reading small groups, and intervention time. 
pin it