Science was, hands down, a favorite time in my class for all of my students year after year! We were not only able to explore fun topics, but we were able to get our hands dirty and carry the topic throughout the day as we learned reading and writing skills.  And let's be honest–with everything that I had to cover with reading, writing, and math, science time always seemed squished.  I never felt like I was giving it enough attention no matter how hard I tried.
This is exactly why I integrated science throughout our day as much as possible! It was easy to do, made our learning run smoothly, and the little learners loved it! They were excited all week about our science topic! Let's take a peek at how I integrated science into our reading and writing and how you can, too!
I always liked to have everything mapped out for the month based on the science standards.  (I am a Texas teacher so we have our own standards that are a little more topic-specific than the Next Generation Science Standards.)
Shared Reading
Shared reading is a time that you, the teacher, are providing an opportunity for the students to read WITH you. You are inviting the students to join you in practicing reading skills. I like to use poems (to the tune of songs, mostly!) with a science theme for the week integrated.  You use the same poem for the whole week and each day has a different focus.
I also used this time to weave in some phonics practice based on what phonics patterns are included in the poem.
If you want to take a closer look at shared reading, watch THIS VIDEO on Facebook Live on my Facebook Page!
Close Reading
Close reading is a time that you, the teacher, are providing the students with a text rich in details that results in pushing the students to be thoughtful readers.  This is not an independent reading time, but a time for you to guide and scaffold the students as they are building skills to become solid readers. Integrating science can be done simply by using non-fiction science themed passages.
Each day of the week there is a different task for the students to do with the same text.  The plus side to this is that the routine stays the same and students learn and know what to expect!
Shared Writing
Shared writing is a time for you, the teacher, to invite the students to think WITH you. You will do the writing correctly, providing a proper model for the students, but they will generate the ideas. Writing about a science topic we are focusing on is super simple to do during this block of time. Creating anchor charts with your students is a great way to squeeze in some shared writing!
Independent Writing 
Releasing the little learners to do things independently and seeing how powerful all of the shared and interactive activities are is the goal. You are able to see the little learners use their phonics skills and sentence structure they have learned. We always were able to do independent writing as we researched and dug deep into our science units.  They would become little researchers as they would read the animal fact pages and record information in the flip books.
Also, any time students created flip books for their interactive notebooks, they would implement their writing skills.  (I still 100% value the writer's workshop process, but I think it's important that we provide more writing opportunities for our little writers beyond writer's workshop.)
We also were able to squeeze in some independent writing as we wrapped up our science units with these adorable crafts!
So what are you waiting for? Get busy integrating!!  You can snag a Science for August Curriculum Map FREE!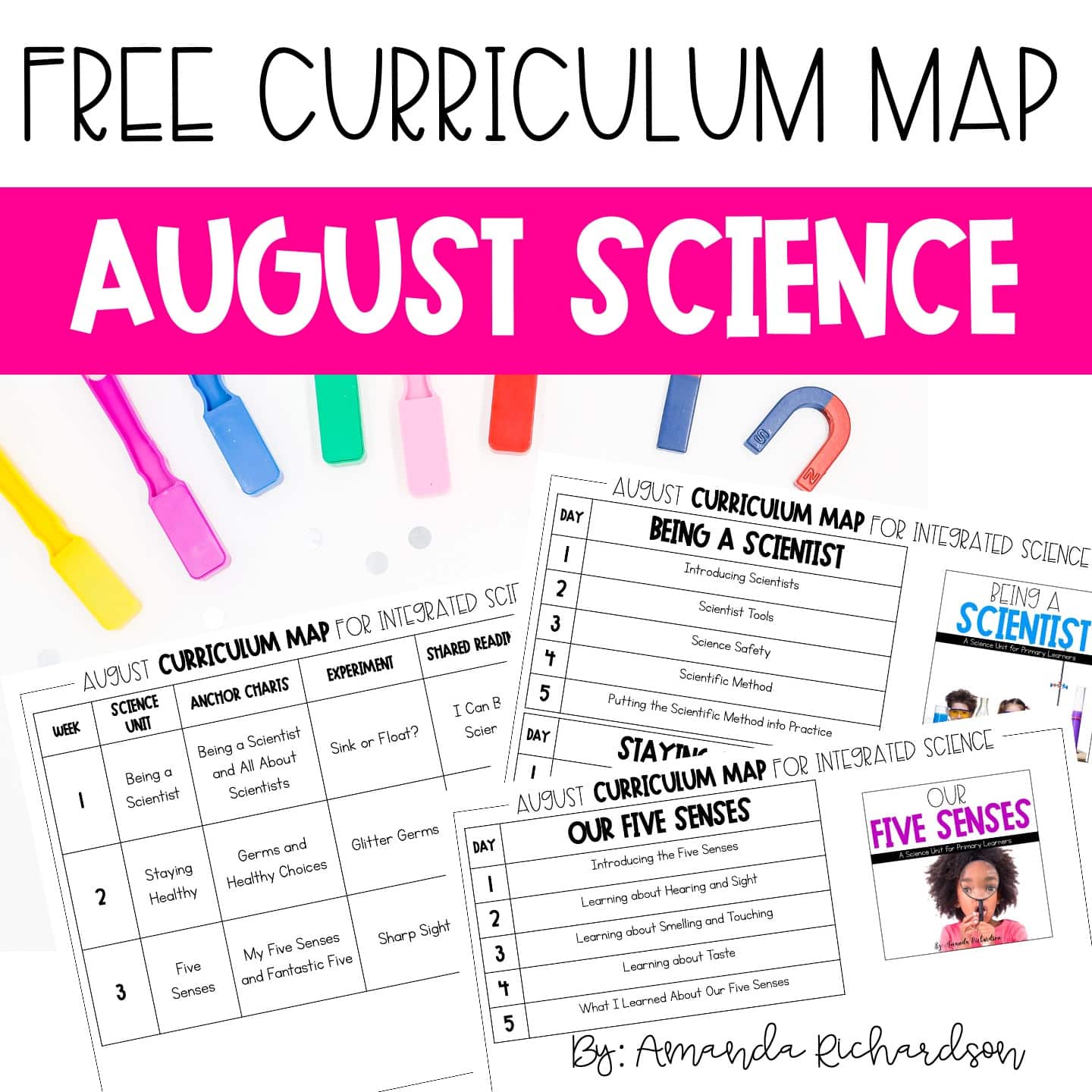 Planning all of this out for each month is made simple in my First Grade Science Bundle found HERE.
Do you integrate science throughout your day? Is it a struggle for you? What would make it easier? I'd love to hear more from you!
pin it