Anchor charts are a classroom favorite for so many of us! Sometimes we, especially as females, get so discouraged when we see other people's anchor charts and how perfect they look.  Friends, let me let you in on a secret–mine were NEVER perfect! As a matter of fact, some of the social studies anchor charts my students remembered the most were made on a whim!
I want to share with you 9 Must Make Anchor Charts for Social Studies.  And guess what? Several in here are simple and anyone can recreate!!
Most of us teach about bodies of water and landforms. This anchor chart unfortunately does not have a link back to the creator, but The Applicious Teacher found it years ago and has featured it, also! I love that they were able to squeeze all of that information onto one chart so the students can compare them!
We also all cover timelines.  This, my friends, is what I was talking about when I said it doesn't have to be fancy.  I used pictures printed from online and a piece of butcher paper from the workroom. As I talked about his life and accomplishments, we built this timeline using pictures and phrases.  
Community workers are familiar to most of our students before we even teach them.  I really like that when So I Was Thinking… created this chart she used the space at the top to explain what a community is, then community helpers below.  The pictures, again, nothing fancy and the descriptions there are great to be recorded as students learn. 
Citizenship is something we generally covered at the beginning of the year and then revisited it throughout the year.  We used this chart to brainstorm qualities of super citizens.  No fancy illustrations here! (See how my guy's face is lopsided?) Read more about that lesson here.
Here is another landforms anchor chart, except it tells what landforms are. Chalk Talk didn't even write it all. She typed it, printed it in black and white, and boom–done! It's very informative!
Media is a topic that was new to our standards a few years ago.  It was a little tough to explain to my students, but this anchor chart helped them out! I also wrote a little song to help them remember! Read more about it here. 
Needs and Wants is another common topic.  Most of the time I tried to revisit it around Christmas because it was so fitting, but sometimes our curriculum needed it to be earlier.  We got creative and talked about a trip to the moon in this lesson here. Again, not an award winning social studies anchor chart, but we brainstormed, made a list together, and the students had a great time! Most importantly, they remembered the lesson!
This transportation chart is another one that places vocabulary at the top.  I just love this idea! I'm not sure why I never thought of it. The author is unknown. 
Finally, this Abraham Lincoln social studies anchor chart, by A Day in First Grade, is very eye catching! Not super fancy, but it gets the job done! With Presidents' Day around the corner, I thought it was a must make for sure!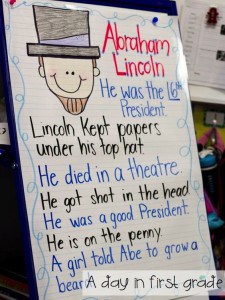 If you are looking for more anchor chart ideas, check out this post with math anchor charts, this post with reading anchor charts, or this post with science anchor charts!
You can also follow my pinterest board for many more great ideas! 
pin for later