Taking running records on all of your students can seem daunting. How do I take a running record on one student with four others at the guided reading table? How do i interpret self-corrections and errors? What do I do with the accuracy rate? These are all questions many teachers have running through their heads!
If you teach a primary grade, you probably know just how important running records are, but you might struggle with how to best use them.  I want to share a few tips for running records a little easier and make them more meaningful. Remember, meaningful running records can really help you move your students forward in reading.
1. Take one running record each time you're at the guided reading table.
For each group you meet with each time, choose one student to take a running record on. So if you meet with three guided reading groups a day, you'll end up with about 15 running records a week! It also won't take up any extra time as your students would already be reading with you anyways. You can read more about the structure of my guided reading lessons HERE.
2. Keep a log of running records.
Tracking how often you take a record on each student is a simple way to stay organized and make sure each student consistently gets a record taken. You can also track individual progress through running records. In my Guided Reading Binder, I have a tracking form you can use as well as running record forms. Using a log makes it super easy to see who I have listened to that week.
3. Use a blank form.
Our little readers can do all sorts of things when reading! If you use a running record with printed text, you may have difficulty recording all of the child's behaviors. Running records are so much more than a right or wrong word. We need to see how each reader arrives at the decision they made when reading. A blank form will give you more room to record what happens during reading, and it's a little easier to do without looking.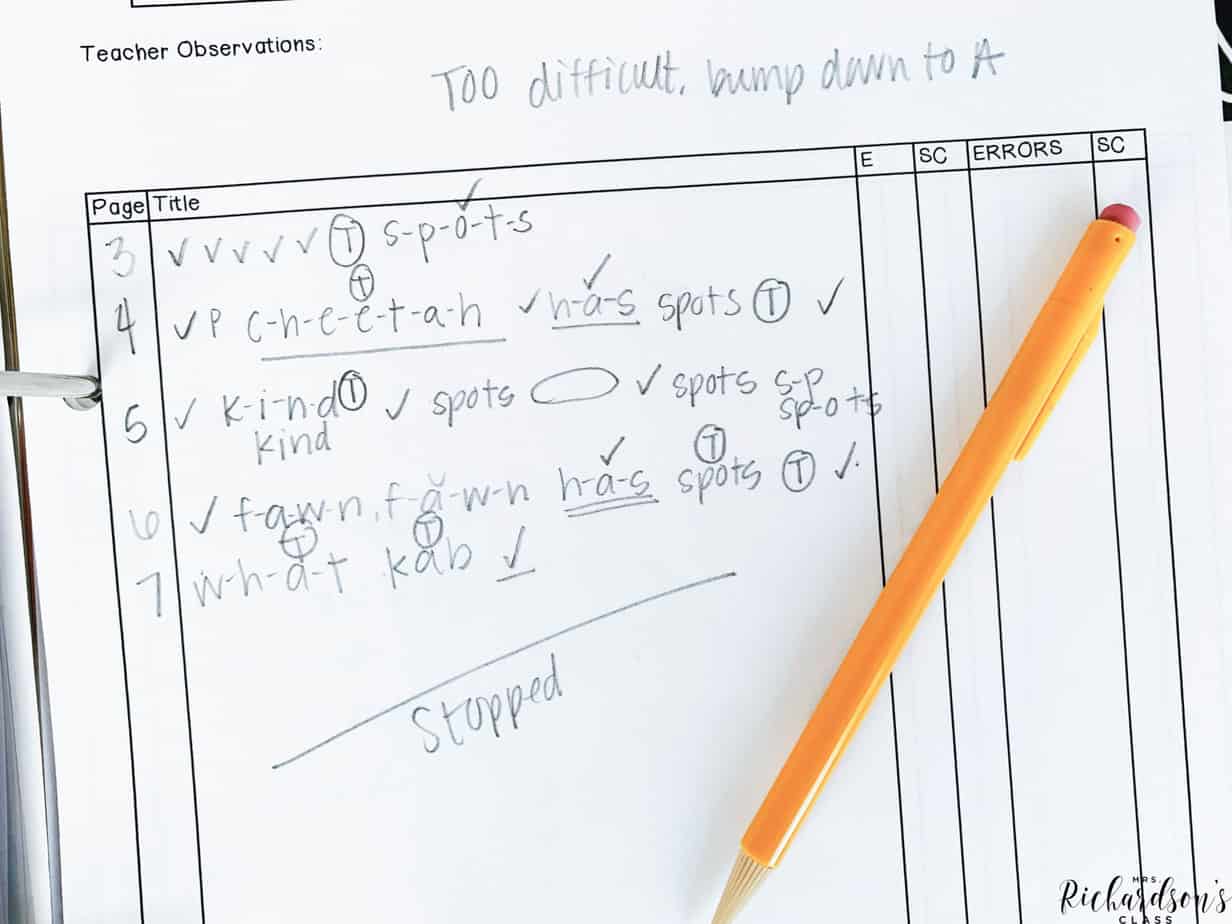 4. Keep cheat sheets handy.
In my guided reading binder, I like to keep both a cheat sheet for recording symbols and calculations. This makes it super easy in case there is a symbol that doesn't get used often. It also makes calculating the accuracy rate and self-correction ratio much easier.
There are a few apps out there that would be helpful, too. You might check out Running Record Toolbox. It's less than a dollar, has a timer, and does the math for you.
You can also grab a FREE running record coding cheat sheet on my blog in my How to Take a Running Record post.
5. Take the running record on a "warm" reading.
After the student has read a text to themselves two to three times, begin the running record. You can learn a lot from a warm reading record. Did the student take what we discussed before reading and apply it? Did the student understand my teaching point?
Remember not to intervene too much before you take the running record, too. We just want them to have the introduction and a chance to independently practice.
6. Add anecdotal notes for each record.
This could be one to two quick sentences about how the reader behaved, the fluency, and what they did well. Did the child read too fast, too slow, or just right? Did they seem to recognize when they made errors? Does the reader seem to have good directionality and movement while reading? Was the text too difficult? How did you know? What other reading behaviors did you notice? Just try to think of an overall brief summary to make note of for yourself.
7. Remember to interpret the errors and self-corrections.
This is the meat and potatoes of the running record! Even though you might be tempted, don't skip it. It uncovers very important things about the reading process. Once you decide if the errors and corrections were meaning, structural, or visual, you can look at the pattern each child has and tailor your instruction to meet those needs. Take the time to do this part carefully.
Running records capture both how well a student reads and the reading behaviors of students. They also help us decide when a student is ready to move up in reading level. If you haven't tried using them in your classroom, I highly encourage you to try it!
pin it
If you still feel confused about taking running records or interpreting them, you would LOVE the Guided Reading Unpacked online course. Not only do we cover everything about writing and implementing guided reading lessons, but I go in-depth on running records, including how to take one, how to interpret, give you helpful printables, and you can watch real-life examples. Go HERE to get on the waitlist, and be the first to know when the course is live and open for registration.